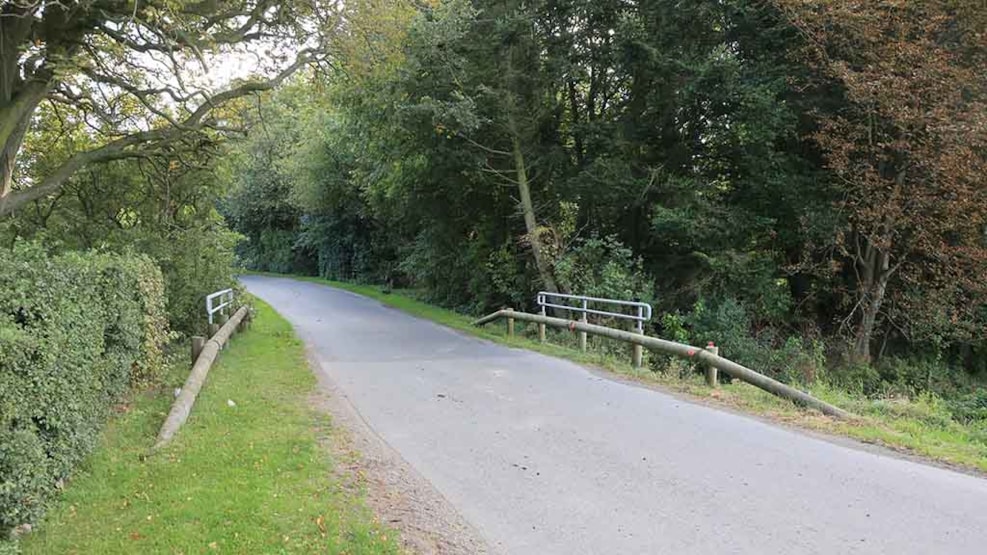 The Rakkelbro Track
The Rakkelbro trail is a 3.4 km hiking trail in beautiful nature between Hårslev and Ejlskov on North Funen - enjoy a nice walk in the most idyllic landscape!
The Rakkelbro track runs on field roads, along fences and along car tracks in the fields. The track is marked with red arrows. In the fields, it is important to follow the trail along the edge of the field.

The track starts at the parking lot at the Hårslev hall, and from here you'll get to see the beautiful landscape by the hedgerows and the small river Storåen.

The Rakkelbro track is named after Rakkelbro by Storåen, which you cross on the track. Rakkelbro is first mentioned in 1387 and has been seen as the natural border between the two villages Ejlskov and Hårslev. The name rakkel can mean a doe (a female deer) or the raw boundary between the villages.

People have lived here for several thousand years: North of the track, a burial site with seven burial urns from the Late Roman Iron Age (175-374 AD) was found in 1970.

Between the two villages you see quite a few earthworks. They were made in the 19th century when the commons ceased to exist and each farm got its own land.

If you look carefully, you can also see traces of roe deer and fallow deer in the field - and don't forget to enjoy the beautiful nature.