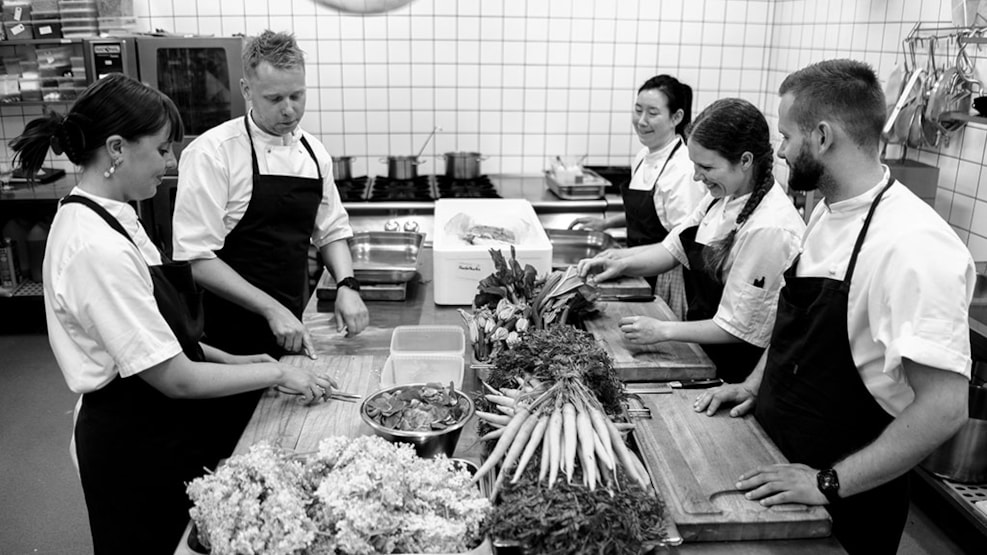 Restaurant Nordatlanten
Welcome to Restaurant Nordatlanten
Where they serve fresh seafood, tender meat, green side dishes and delicious bread. You can also order selected wines, beer, coffee and sweets.
Nordatlanten is a classic gourmet restaurant with a Nordic touch. They pride themselves on using good ingredients and utilise the herbs, fish and vegetables that the North Atlantic countries offer. On the menu you will regularly find items such as reindeer lichen, sea buckthorn, Icelandic lamb, angelica and much more.
The menu offers plenty of seafood, and the ingredients must be super fresh. Consequently Restaurant Nordatlanten gets up very early and goes to the fish auction in Skagen, Grenå or Hvide Sande, bids, buys and transports the fresh catch home to the port in Odense.
North Atlantic Brunch
Here you can enjoy a great weekend brunch overlooking the water. The brunch is a buffet brunch, so eat all you like and enjoy a variety of drinks - it's all included in the price. The brunch can include e.g. smoked Greenland halibut, cold smoked Icelandic salmon with smoked cheese, skyr with toppings, crab legs with aioli and much more.
Parties and meetings
Restaurant Nordatlanten can also provide a fine setting for your wedding, confirmation, christening, Christmas party and much more. It is possible to rent a private room or the whole ground floor if you are a large group. You can see the different offers on their website.
Shop North Atlantic
On Thursday, Friday and Saturday, you can also visit the cultural centre's shop, where you can buy beautiful designs and handicrafts from the North Atlantic. You'll find jewellery, books, ceramics, clothes, delicacies, furs and more.
Find Restaurant Nordatlanten
The restaurant is located on Finlandskaj in Odense Harbour. Free parking is available at the end of the quay for a maximum of 3 hours.
You can read more about the cultural centre Nordatlantisk Hus on this page. If you are interested in what else you can experience at Odense Harbour, click here.