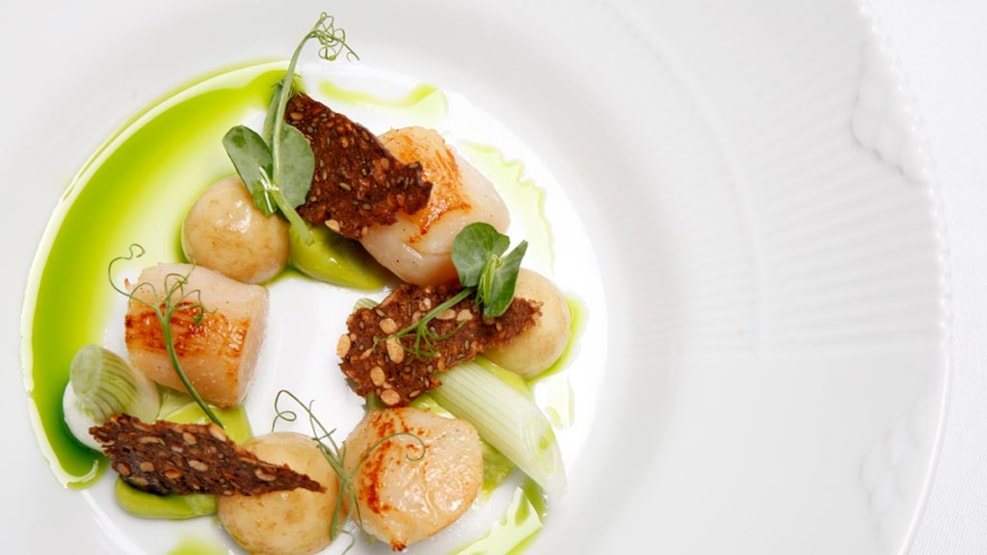 Restaurant Pasfall Odense
Come to Restaurant Pasfall for a great experience with gourmet food of the highest quality. The menu changes seasonally and the restaurant has a strong focus on local, Funen ingredients and seasonal produce.
Tastiness and atmosphere
Find the unique restaurant Pasfall in Odense city's charming Latin Quarter. The restaurant values great taste, enjoyment, and closeness, and this is exactly what makes Restaurant Pasfall special. The cuisine is French-inspired with local, high-quality ingredients from Funen. The chefs use local seasonal ingredients – therefore you will try new gourmet food of high quality every season: Winter, spring, summer, or autumn. Restaurant Pasfall's intention is that you, as a guest, can go to the restaurant for the full gourmet experience with lots of courses and wines or you can drop by for a few dishes before you go to the theatre, for example. At Restaurant Pasfall, the service is top-notch and so is the atmosphere.
Menu and wine
At Restaurant Pasfall they offer lunch, and dinner and is also available for larger parties and events. In the summer you can get oysters, hand-picked prawns, and much, much more. The menu is available for both lunch and dinner, so there is plenty of opportunity for a tasty meal whatever time of day a restaurant visit at Pasfall might tempt. In addition, the restaurant has a fantastic wine selection where you can choose the best of the best. They offer sparkling wines, white wines, red wines, rosé wines, sweet wines, and champagne. There is something for everyone, guaranteed to complement and complete the courses you choose at Restaurant Pasfall.
Thomas Pasfall
Thomas Pasfall is the owner of Restaurant Pasfall and has been a chef for more than 20 years. He might as well be called the uncrowned gastronomic king of Funen and with him as the owner of Pasfall, it is no wonder that the restaurant has a high level of quality. In addition to being a chef, Thomas Pasfall has also worked as a wine waiter and court cook on the Royal Yacht. Thomas Pasfall has also written no less than eight books. You are therefore guaranteed a prodigious experience at a high level at Restaurant Pasfall.
Pasfall and the Michelin Guide
Since 2016, Restaurant Pasfall has been included in the Michelin Guide, a guide that reviews and recommends restaurants. The fact that Pasfall is part of this guide is certainly not without reason. About Restaurant Pasfall, The Michelin Guide writes this: "Watch the eponymous chef at work in the open kitchen of this bright, contemporary restaurant. Top seasonal ingredients are used to create robustly flavored dishes which are classic in their foundation but modern in delivery." Therefore, you have every reason to visit the tasty, quality-assured, and fantastic restaurant.