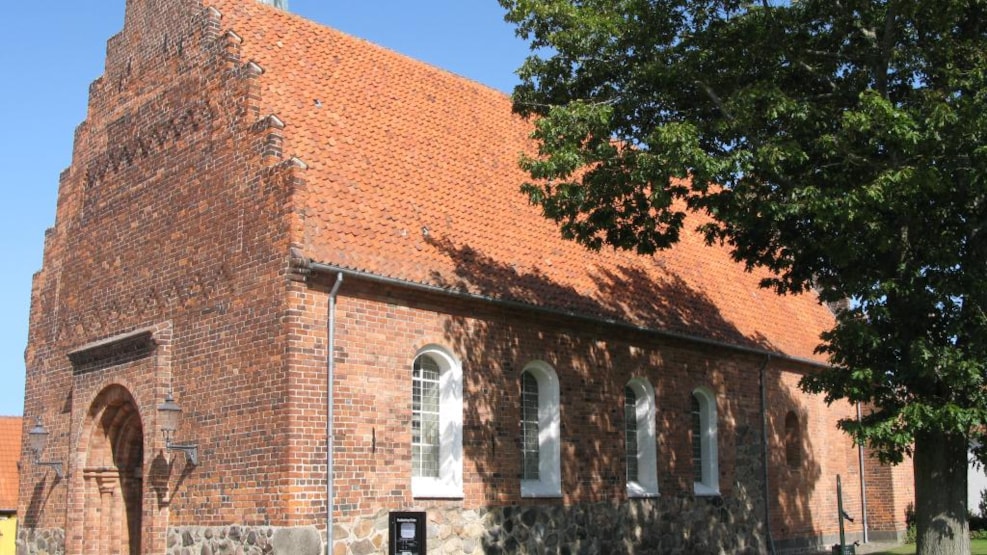 Rudkøbing Church
Between the streets of Smedegade and Brogade stands Rudkøbing Church. The main body of the church consists of a handsome, well preserved nave and chancel from the late Romanesque period.  
Histor
y
In the western part of the well preserved nave and chancel it is possible to see the remains of a unworked field stone wall, which has presumably been part of the first church which was built here, from as early as the beginning of the 12th century.  It is known that when the original bell was removed from the bell tower in 1740 an indistinct runic inscription could be seen, from this inscription it was possible to decipher the year 1105 which could have been the year the first church was dedicated. However by the 13th century this church had already been demolished and replaced by the current brick built building. The tower, with its unusual rounded gables, was built in 1621. The church underwent restoration work in the years 1837, 1896 and 1956 and a number of modifications to the building have been made.
The church has three bells, each with its own name: Stormklokken (the storm bell) , Tiklokken ( the ten bell) and Tolvklokken (the twelve bell).
The carillon plays every day at 08.00, 12.00, 16.00 and 20.00.

The interior
The current altarpiece dates from recent times and was made in Romanesque style. An older altarpiece can now be seen in Langelands Museum. You can also find a pulpit carved in a floral style, a late gothic crucifix, and a neoclassical baptismal font dating from 1836. There is also an epitaph to town-magistrate Claus Berthelsen dating from 1698, who is also commemorated on stone above the door into the tower.