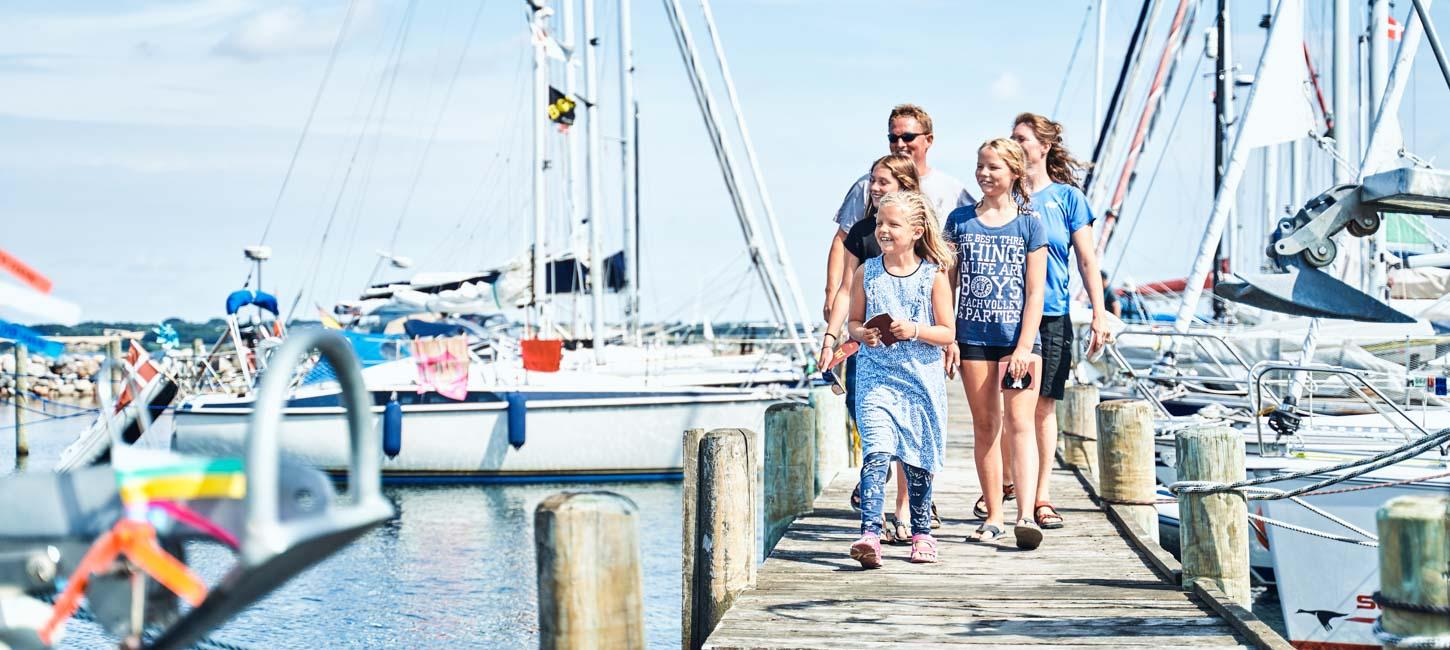 Spend your holiday at sea
Photo:
Kasper Orthmann Andersen
Welcome to the archipelago surrounding Fyn! Enjoy the beautiful sand beaches with a backdrop of big beech forests from the sea side. Steep cliffs, green meadows and castles and manors located by the sound. And lots of islands!
Head out to sea with your family
If you want to sail with sails and experience the presence of history on an old schooner or galeas, then through the Maritime Centre you have the option of booking an unusual holiday or day trip on the water.
You are not required to have any seafaring experience. The crew is ready to receive you, your family or the company and guide you on the cruise or the trip. You may actively participate to the degree that you feel you can contribute.
If you want to rent a ship with a crew for a longer trip, you can read more about it right here. If a one-day trip is enough, you can read about the possibilites right here.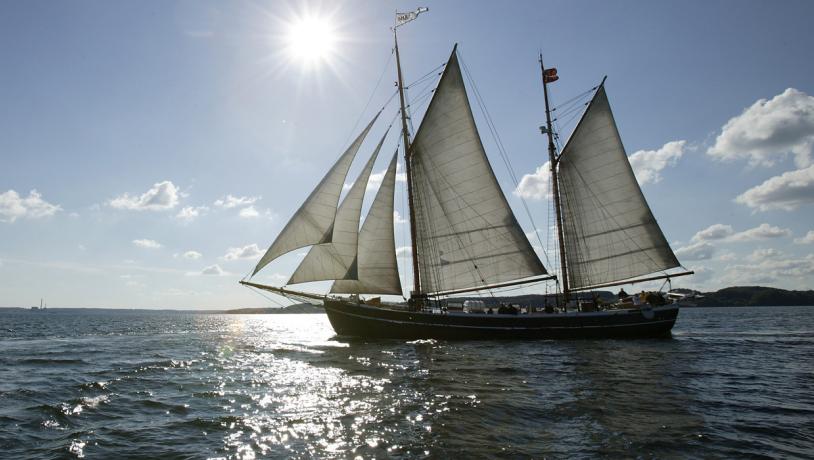 Photo:Destination Fyn
Sail around Fyn
Do you have your own boat? Fyn and the sea surrounding the small island is an obvious destination!
The advantage of sailing around Fyn is that you decide yourself whether you want to sail against the wind or with the wind at your tail, or if you want to take a long or short trip. You will always find one or more marinas in the neighbourhood.
Fyn has waters and a coastal environment to suite every preference. To the west we have Small Belt with its strong currents and an incredibly beautiful coast on both Jutland and Fyn. To the east you'll encounter the huge coasters on the Great Belt, and you can sail under the impressive Great Belt Bridge. To the south you have the popular South Fyn Archipelago, and to the north you have the open sea. Four to five days of sailing is ideal for a round trip.
You can see a list of Fyn marinas at sejlerens.dk , where you can also read more about the harbours' facilities.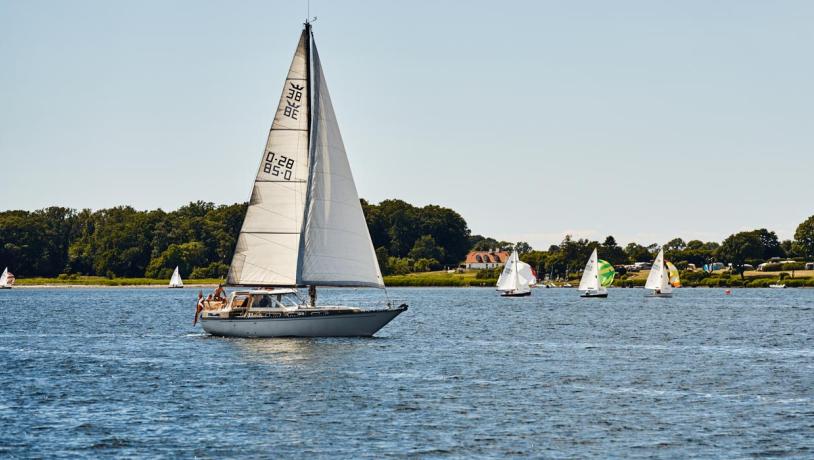 Photo:Kasper Orthmann Andersen
Dinghies with outboard motors
A dinghy with an outboard motor is for the person that wants complete freedom on the water, whether you like somewhat deep water or prefer to have fun with the entire family at sea and take a swim from the boat.
With a motor dinghy, you can easily get around and there are plenty of things to discover. As only 25 of the 90 islands and islets around Fyn are populated, there are plenty of uninhabited islands where you can experience your own undisturbed adventure. Furthermore, you can sail to your own bay or beach, where people on foot normally cannot get to.
If you are renting a summer cottage on Fyn, you might be lucky and get one that comes with a boat.
If you haven't brought your own boat, you can rent one. Be aware that speed boats must pass a test which includes knowing the Rules of the Road at sea. Sailing without this test will be fined. The executive order containing the regulations for speed boats can be found at sofartsstyrelsen.dk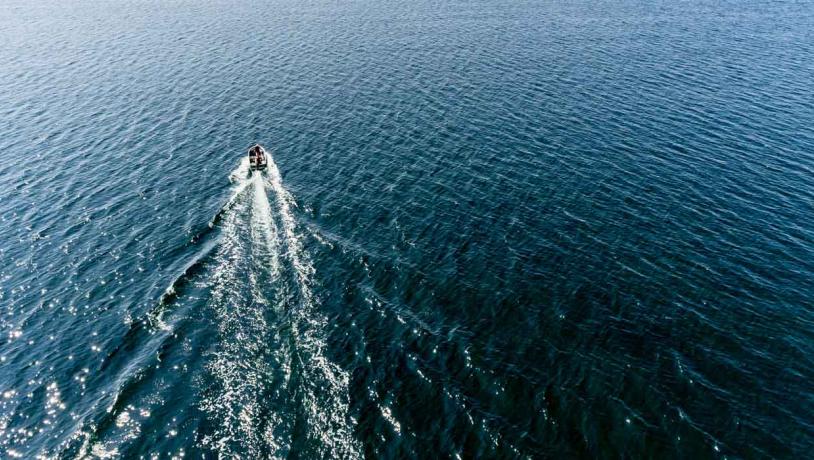 Photo:Kasper Orthmann Andersen
Smack dinghies
The smack dinghy has been in use all over northern Europe but is especially widespread in the South Fyn Archipelago as the small boat easily sails around between the small islands and fjords. Everyone used to own a smack dinghy, and they were used for fishing as well as the transport of goods and people, smuggling and trade. But what kind of boat is it? The simple and small wooden boat is named for its rectangular sail called a "smack". The sail has a sprit located at the bottom part of the mast up to the free end of the sail.
The boat has 1-3 masts and is usually 16-17 feet long and seats 3-4 people. 

With a smack dinghy, you can experience the South Fyn Archipelago on your own, or you can check out the history of the dinghy at Øhavets Smakkecenter.
Canoe, rowboat and pedalos
If you would rather sail in calmer waters than those of the sea, you can bring family and friends on a trip in a rowboat or canoe. This is particularly possible in Odense Stream as well as in Svendborg Sound and Kerteminde Fjord.
On Odense Stream you sail in pedalos behind Brobyværk, but you can also rent rowboats and canoes at Aafarten in Odense. The rowboats are meant for short trips and are rented on an hourly basis. The canoes are meant for day trips, where you can have an adventurous experience about 10 miles past the Odense Zoo, the Fairytale Park, Culture Botanical Garden and the meadows by Åsum. Countryside and culture simply become one on this trip.
From Kerteminde, you can sail roundtrip by canoe on Kerteminde Fjord and Kertinge Cove. This is a day trip on the open waters, rich in birdlife and clean water, where in undisturbed scenery you pass by the forest, the farm animals in the fields, Munkebo and the Viking ship in Ladby.
Additionally, you can sail with pedalos on Svendborg Sound, taking off from Vindebyøre on the island of Tåsinge.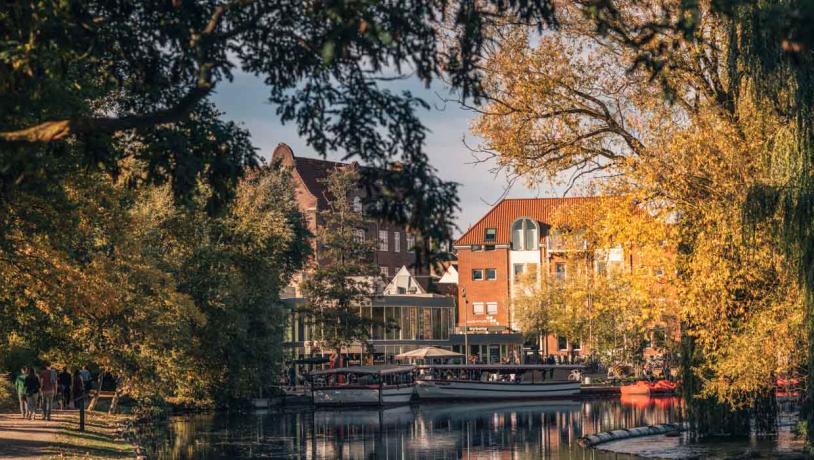 Photo:Andreas Bastian