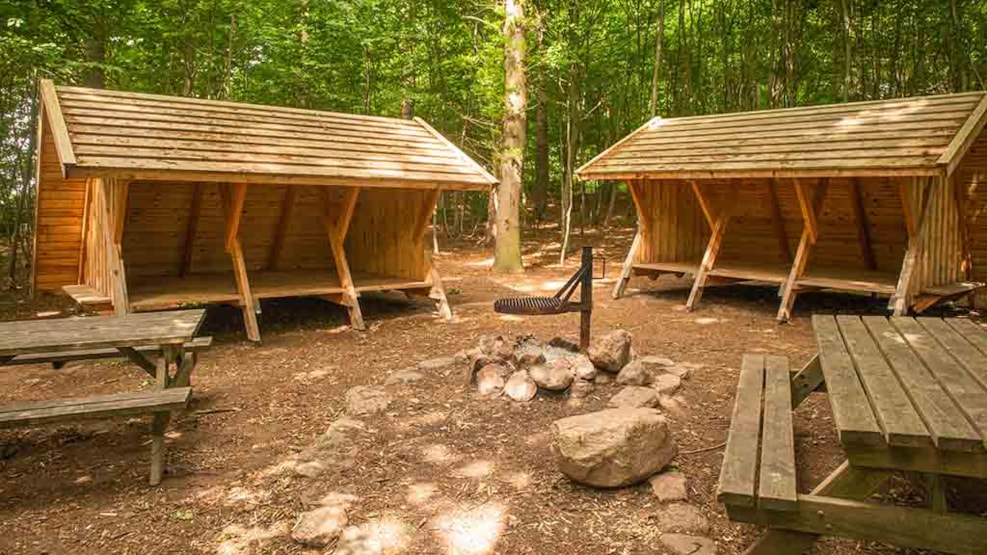 Shelters in the Glavendrup Grove
Book a shelter in the green forest in the Glavendrup grove by the Vikings' large grave monument - close to a large barbecue hut, picnic tables and in the middle of beautiful nature!
Enjoy living in shelters in the old Viking grove! The shelters are located in the Glavendrup Grove, 2 km. from the village Skamby and 4 km. from the town of Søndersø. The plot has 2 shelters with room for 5 people.
There is a 100-metre-distance to a restroom and water (which will be open during the summer). Nearest place to shop is in Søndersø.
In the Glavendrup Grove, you will find one of Denmark's finest stoneships from the Viking era, with the Glavendrup Stone in the west end. The Glavendrup Stone has Denmark's longest rune inscription with 210 runes, which is definitely worth a visit. There are also several other memorials in the grove.
In the Glavendrup Grove there is also a large barbecue cabin with tables and benches, located right next to shelter square.
Book a shelter in the Glavendrup Grove