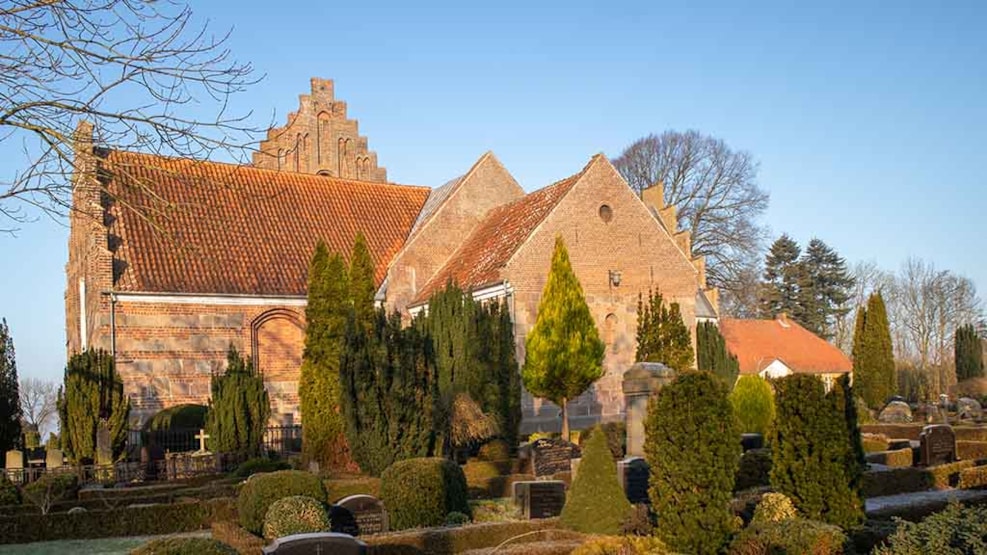 Skamby Church
In the middle of Skamby, Skamby Church is located on a hilltop, so you can see it from everywhere in the surroundings - and it is well worth admiring.
Skamby church is a medieval village church.
The outer walls are made from Ashlar style granite and large, red medieval bricks. Romanesque stone reliefs on the south wall. The chorus walls in the Gothic and early Renaissance style.
Worth noticing:
- The alterpiece: The crucifix is made by Claus Berg.
- A Roman font.
- Renaissance pulpit from 1610.
- A copy of the painting "The feast in Levi's house" by Paolo Caliari Veronese.
- Confessional from the 18th century in the north wing.
- Epitaph to Günther Didrich Finecke, Dallund, dead 1729, in the north wing.
There are gravestones for the noble Blixen-Finecke family and the geographer and ethnographer Hans Peder Steensby.
There is also a so-called plague thorn in the churchyard; it is a hawthorn that was planted on the mass graves where victims of the dreaded Black Plague were buried. The plague thorn was supposed to keep the sickness in the ground.
It is possible to light a candle in the church.