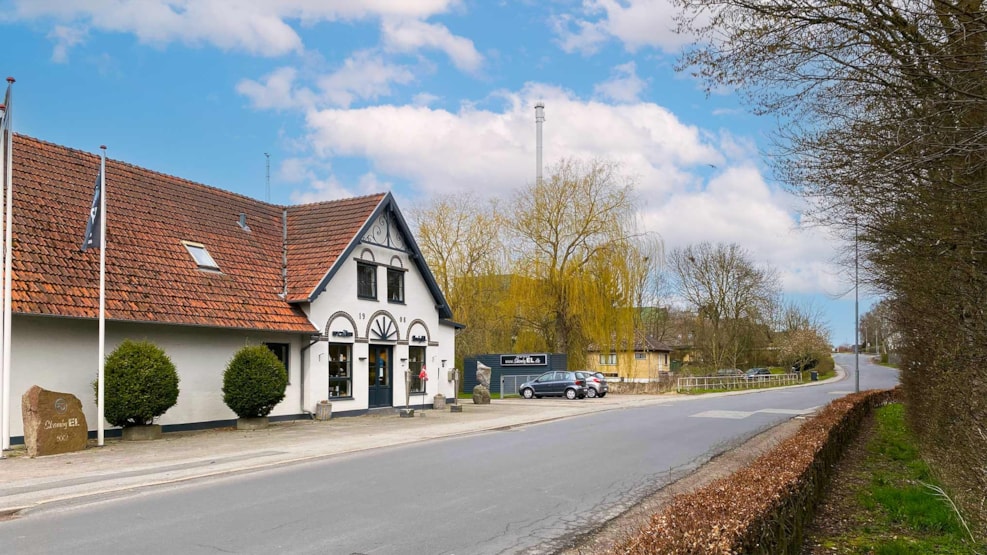 Skamby
Giants, trolls and Vikings have helped to found Skamby - and the village has also been a station on the North Funen railway!
Skamby is an old town. People have lived there for millenia, and they have left traces. Near Skamby you can find both a giant passage grave from the Neolithic age, the huge burial mound Torshøj, which is probably from the Bronze Age and the Glavendrup grove with remains of 2 bronze age mounds and not least the Glavendrup stone with Denmark's longest rune inscription.

Skamby is mentioned in the written sources for the first time in 1348. There is a little uncertainty about where the name Skamby comes from. Maybe it means the short town or the town by the short river.
The church
When Christianity came to North Funen, the first church in the region was built in Skamby. Reportedly much against the local troll Fin's opinion.

The church is built of granite squares and monk stones, and there are many interesting things. Among other things, a "plague hawthorn" in the cemetery. In the Middle Ages, it was common to plant a hawthorn on top of the mass graves for people who died of the Bubonic Plague.
The railway
The railway Nordfynske Jernbane from Odense to Bogense came in 1882. The village grew around the station, shops and artisans settled down, and it was easy for the surrounding farmers to get their crops transported on the trains. In 1966, however, it ended when the railway was closed.
Skamby today
Every summer, there is a Troll Festival in Skamby, featuring carrom games, soccer matches, bike races, stalls, and a party. Since 1967, the legend of the troll who kicked the church has given its name to the annual town festival, "Troll Festival." It is the Skamby Boldklub, along with volunteers from the Skamby and nearby Civic Association, as well as the Skamby Multihus, that organize the Troll Festival.
Skamby is an active local community that, in collaboration with the Nordfyn Municipality, transformed the former school into a multihouse a few years ago, which is rented out for parties, seminars and courses.
Several of the old buildings in Skamby have taken on new purposes. Skamby Electricity Plant from 1908 has now become Skamby Electricity, which still has a beautiful shop in town. The current owners chose to renovate the facade and return it to its original appearance, which led to them winning the preservation prize of Nordfyn Municipality in 2020.
The carriage maker Eilersen is now a large international furniture company with the carriage as its logo.
In the station building, like the other station buildings on the route, there are now residences.
In the old inn, the artist Knud Axelsen ran Gallery Nordfyn for several years.
The church tower has competition from the large silos at Danish Agro, which has its regional headquarters in Skamby. Their tall chimney is now the most prominent landmark on the horizon as you approach Skamby.
Population: Around 440