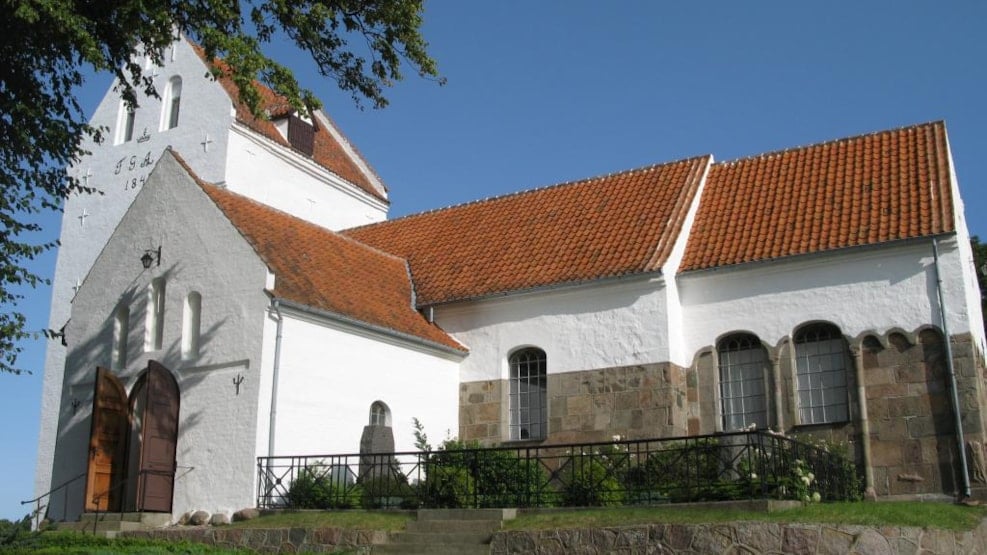 Snøde Church
The church at Snøde has the highest placement of any church on Langeland, as it is built on top of one of islands many hat hills
Histor
y
The nave and chancel are built in the Romanesque style and date from around the year 1200.  The interior of the church is beautifully decorated with elegant pilasters topped with handsome capitals. Around the year1500 the walls were heightened and a chapel, tower, porch and vaulting were added to the church.
The beautiful altarpiece and pulpit were made in Renaissance style and date from 1610 and 1635respectively. The pulpit in particular is beautifully sculpted. Handsome Romanesque bas-relif blocks have also been set into the church walls in a number of places.
In the chancel it is possible to see the well preserved gravestone of Hans Steensen, Margrethe Basse their son Christoffer. In the Steensens family's mausoleum under the church lies, amongst others, the High Court Judge Vincens Steensen, who is best known for his brave fight in defence of Langeland during the Swedish Wars of the 17th century.
The church was rebuilt during the years 1874-75.  
The church is open to the public during the sextons working hours.