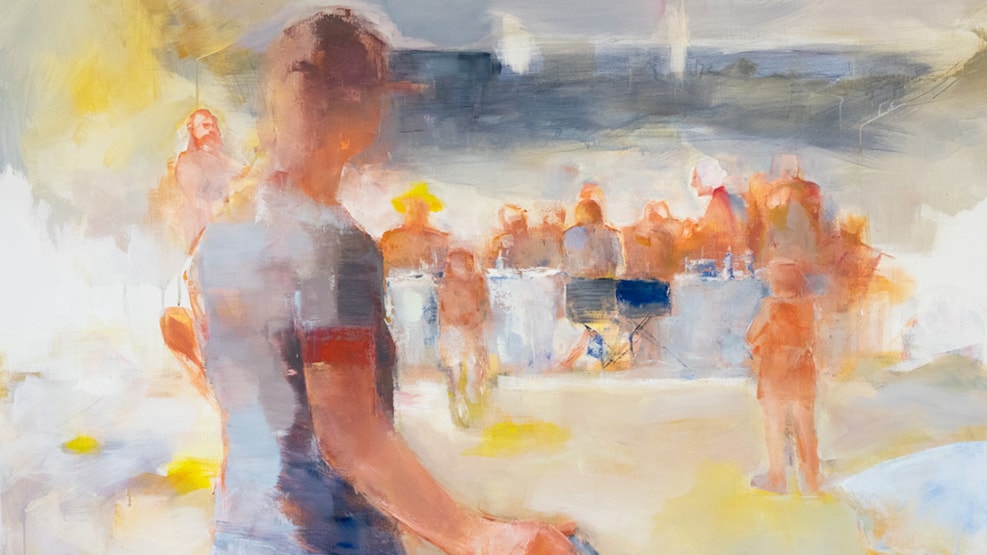 Solveig Moa - Painter
Artist Solveig Moa is interested in people, especially people close to the sea. Her paintings can be seen in a number of locations around Langeland
Man and the Sea
"I live close to the sea, I find inspiration from the beach and from the culture associated with people who live next to the coast. I aim to portray light and movement in my paintings, and the motif is always central to my work. I include hints, allusions and small references to art history. I favour the controlled rather than the uncontrolled, both in my painting techniques and choice of subject. Additionally I have produced a series of portraits, such as the "Fishermen" of South Langeland" - Solveig Moa.
Langelands Art High School
Solveig Moa came to Langeland, together with her husband Bo Valentin, in the late 1990s to teach at Langelands Art High School. Since then they have become an established part of the Langeland Art Scene and participate in events such as Nowhuset's annual exhibitions and The Artists' Open Doors event.
Biography
Solveig Moa was born in 1961. She studied in the painting school of The Funen Academy of Art between 1985-1990. She has exhibited both in Denmark and abroad and is a member of BKF.
If you would like to see more…
You can visit Fiskeriets Hus in Bagenkop, where there is an exhibition of 16 large portraits of Bagenkop's fishermen painted by Solveig Moa. In Rudkøbing library hangs a portrait of the author Vagn Lundbye painted by Moa.
In her atelier in Ristinge Solveig Moa offers "artist talks" by arrangement (price: 2,700 kr.).