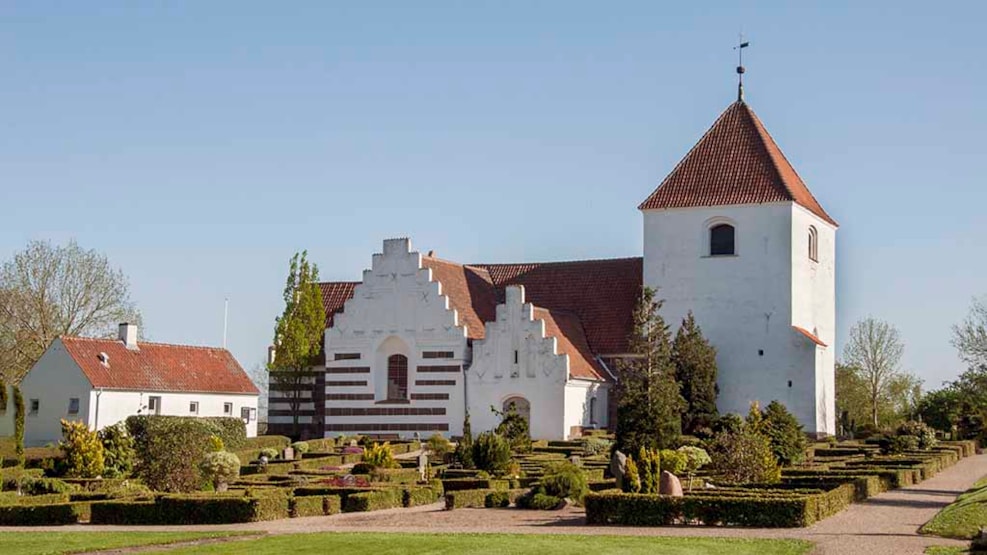 Søndersø Kirke
Big and beautiful Søndersø Church from the 13th century offers unique frescoes and many details!
Søndersø church was built around the 12th century. The church was dedicated to St. Peter and Paul in the Middle Ages, and the northern chapel from the 16th century was dedicated to the Virgin Mary.
The church houses some of the country's finest late Gothic frescoes in the aisle. The frescoes are from 1500-1520, and were uncovered in 1899 and restored in 1933. The frescoes show the proclamation of the birth of Jesus, the Gregorian Mass and the coronation of Mary, the birth of Jesus and the kings' worship of the baby Jesus. In the church you will also find a rare iron - clad door with a Latin inscription from the year 1483.
The Bryske family
There are two beautiful headstones in the choir from the 16th century. The large headstone is over Gert Bryske, son of the owner of Dallund Castle. There is also a beautiful and extremely well-preserved stone for Elisabeth Bryske, one of the Bryske family's daughters who died young in 1582. The baptismal font is older than the church itself and has probably stood in the wooden church that was here before the stone church. It is in granite with beautiful reliefs along the side.
Opening hours
The church is open to tourists and visitors every day of the week between 8.00 and 17.00 - however, NOT in connection with private church services. If you want access to the church outside this time, you can borrow a key from the parish priest.

If you come as a group, you can book an appointment to access the church with one of the parish priests. You can also ask them about the possibilities of getting a guided tour of the church.