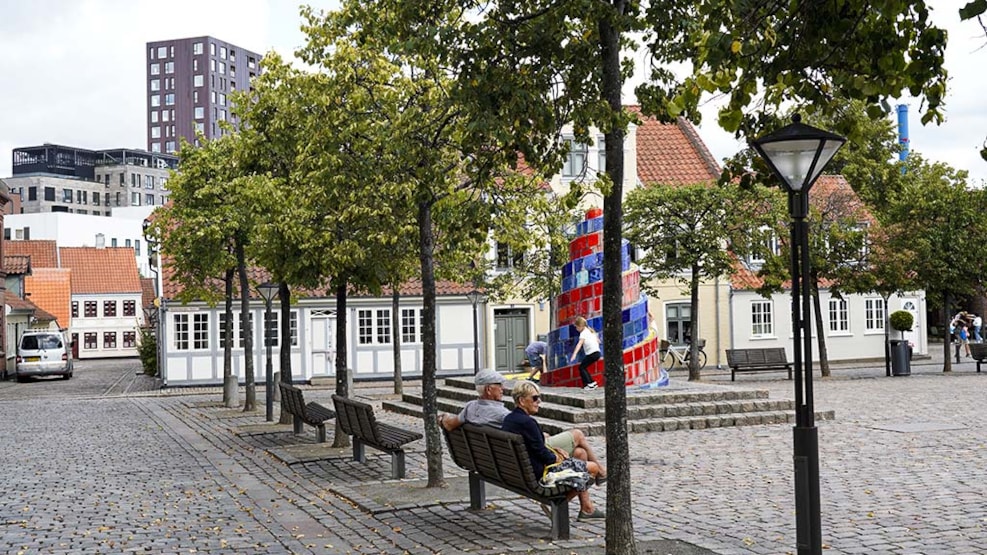 Sortebrødre Torv (Blackfriars Square)
In the middle of the old town, close to the new H.C. Andersens Hus, lies Sortebrødre Torv. Every Wednesday and Saturday morning, the square is the setting for a fresh food market with vegetables, flowers, eggs, fish, cheese and much more. The centre of the historic quarter has a long history and has been the centre of several highlights in the city over the years.
The start in the 13th century
Sortebrødre Torv dates back to 1238, when Dominican monks, immigrants from the south, began to build Sortebrødre Kloster and Sortebrødre Klosterkirke. The monastery passed to the King with the Reformation in 1536, after which it slowly began to decay. Bricks, wood and other building materials were removed and used for new houses in the area, among them The Old Inn (opened in 1938). The last remains disappeared around the 1600s. Today, the outline of the monastery is visible in the square itself, marked with "brass buttons".
Odense's first theatre
In 1795 the province's first theatre, Odense Comediehus, was built on Sortebrødre Torv. Here H.C. Andersen first fell in love with the theatre. He made his debut on the stage in 1812, appearing as an extra in a play.
The theatre was replaced in 1914 by the new building in Jernbanegade. It then served as a hostel until a fire in the 1930s.
The markets
Since the city's foundation, Odense has been a trading centre with daily trade, and the marketplace in Odense was still one of the largest and liveliest in the country at the end of the 19th century. 
The city markets filled several squares, like Albani Torv, Flakhaven and Klingenberg. These are all locations you can visit today. Here the merchants' wares were displayed or laid out in long rows on the cobblestones. Around 1900 local merchants offered almost everything your heart could desire. There were living and slaughtered chickens and pigeons, crates and baskets, vats and buckets, berries, vegetables, flowers and eggs and dairy products such as smoked cheese and butter. Anyone with something to sell was on hand, whether with brooms, brushes, clogs, mats or puppies.
From the 1940s, the market trade declined, and in 1952, due to traffic, the markets consolidated in Sortebrødre Torv.