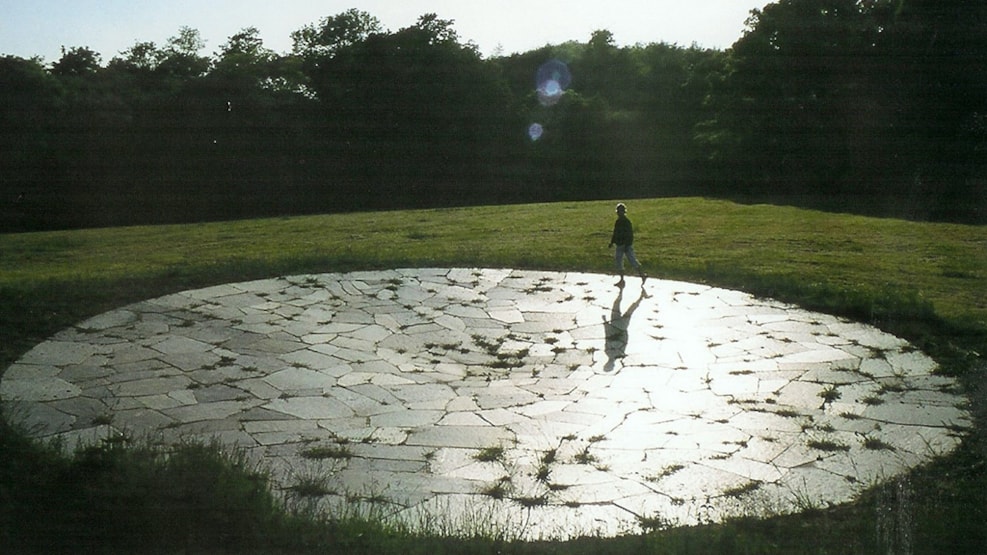 Stillested 2 (A Quiet Place 2), Britt Smelvær
Stillested 2 (A Quiet Place 2)
Artist: Britt Smelvær
Installed: 2002
N.B. An admission fee (25kr) is payable to enter the Castle Park
Feeling small in the enormity of nature
When the sun is shining and the warmth of its rays are absorbed by the grey slates that surface the shallow hollow that comprises 'Stillested 2', both people and sheep can feel it is a good place to be. And if it rains, rainwater collects in a small pool at the bottom of the hollow - ready to reflect the sun when it reappears again, or to quench the thirst of the park's flock of sheep.
To sit on these slates - both in the warm sun and in the cold of winter - to sit and feel happy and "small in the enormity of nature" is an elemental feeling which she carried with her from her Norwegian fatherland.
The thirteen tons of slate that form 'Stillestead 2' were shipped to TICKON from The Otta Slate quarries in Gudbrandsdalen, Norway. Perhaps this goes a little against the principles of site-specific art, but Britt Smelvær sees it as bringing something, a gift perhaps, from home when you move to a new country.
Britt Smelvær
Britt Smelvær is Norwegian, but was born in Scotland in 1945. She is a graduate of the State Teacher Training College in Oslo, and later worked as a professor at the Bergen School of Art. She has always experimented with natural materials and has enriched Denmark, Norway, Great Britain and Indonesia with major art projects. Britt Smelvær has lived in Denmark all her adult life - partly in an apartment in Copenhagen, partly in a house on Langeland.
Read more
Read more about TICKON here.
Stillested 2
Kunstner: Britt Smelvær
2002
OBS: Der skal betales entré (25 kr.) for at komme ind i Slotsparken. 
At være lille i den store natur
Når solen skinner og strålernes varme fanges af de grå skiferflader i den flade hulning, som danner 'Stillested 2', ved både mennesker og får, hvor der er godt at være. Og regner det, samles regnvandet til en lille sø i hulningens bund - klar til at spejle solen, når den atter dukker frem. Eller til at stille tørsten for parkens fårehold. 
At sidde på skifersten - både i varm sol og i vinteren - at sidde og være lykkelig og "lille i den store natur", som hun siger, er dét element, hun har taget med sig fra sit fædreland. 
De tretten tons skifer, som danner Stillested 2, er fra Otta Skifer i Gudbrandsdalen og fragtet til TICKON. Lidt mod principperne om den stedsspecifikke kunst, men i følge Britt Smelvær handler det også om, at tage noget, en gave, med hjemmefra, når man skifter land. 
Britt Smelvær
Britt Smelvær er norsk, men født i Skotland i 1945. Hun er udannet fra Statens Lærerskole i Formning i Oslo, og blev siden professor ved Bergen Kunsthøjskole. Hun har altid eksperimenteret med naturmaterialer og har beriget såvel Danmark, Norge, Storbritannien og Indonesien med store kunstprojekter. Britt Smelvær har boet i Danmark hele sit voksne liv - dels i en lejlighed i København, dels i et hus på Langeland.
Læs mere
Læs mere om TICKON her.