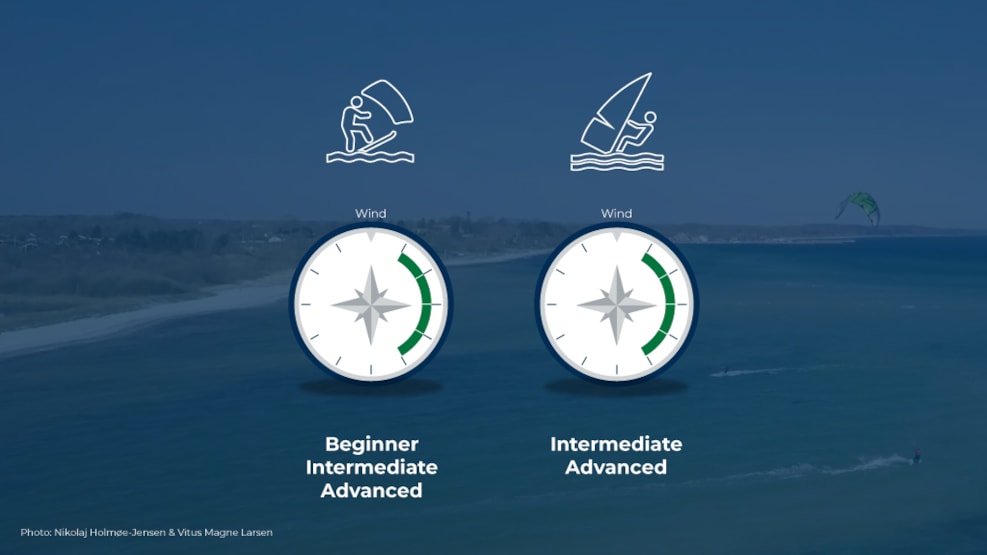 Surfspot: Drejet Strand (Spodsbjerg)
Kite- and windsurf spot with glassy flat and chop
Spodsbjerg is a beach where the shoreline consists of sand with some small rocks and shells - but nothing significant.
The spot is located along the Great Belt, so be aware of the ocean currents - it can get deep! Feel free to use the SailSafe app to check the direction and strength of the currents.
Near the beach/water's edge, there are some sandbanks to be aware of.
The spot is not tide-dependent but will vary by about 30-40 cm.
The water is calm when there is no wind, but it can get choppy depending on the wind direction and strength.
Kitesurfing wind direction: Best in NE to SE.
Windsurfing wind direction: Best in NE to SE.
Windsurfers can advantageously use the area north of the ice cream parlor, where it gets deeper more quickly.
Be mindful of rocks and bottom posts. There is quite a bit of ship traffic and ferry traffic from the harbor, so keep your distance from the harbor.
Rigging and Launching
To the left of the beach, there are some fishing poles, about 50 meters to the left of the parking lot, but they are clearly visible.
There is plenty of space on the beach for rigging and launching. Rigging will be on the sandy beach. If there are not too many cars parked, the parking lot can also be used.
The parking lot at "Spodsbjerg Strand" is about 50 meters from the beach, and there is an ice cream parlor with toilets 100 meters from the beach and the parking lot. There is an outdoor shower by the toilet building.
Please be considerate of the many bathers in the summer.
Spodsbjerg
In Spodsbjerg, you can find restaurants, campsites, shopping options, and a wide range of vacation homes for accommodation.