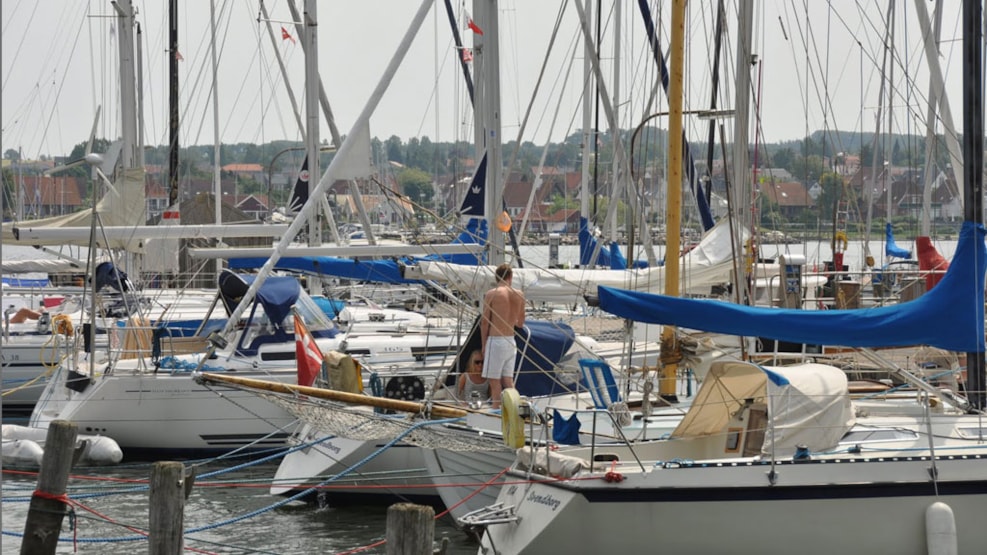 Svendborg Lystbådehavn
Calm surroundings and beautiful nature: If you would like to find a quiet place to moor while being close to a large city, Svendborg Marina is the perfect choice. Located in a scenic area, the marina offers fantastic views of Svendborgsund (Svendborg Strait). Sit back in your cockpit and enjoy the view of the green island of Tåsinge and follow the strait's traffic of ferries, commercial vessels, and sailing ships. Moreover, you can easily reach Svendborg on foot or bike. Stately harbour-front mansions form the backdrop, making the area ideal for a lovely evening stroll.
Lively surroundings. Maritime life here is quite active because of the multitude of boats permanently based in the marina. On the harbour-front you will find a restaurant as well as a fast-food place (which also sells a small range of groceries).
800 metres to the Svendborg city centre: If you want to enjoy a touch of city atmosphere, Svendborg is located close by – in fact, the city centre is only 800 metres from the marina. Several specialty shops will catch your eye on your stroll through the quaint old town with its winding pedestrian roads. If the weather isn't the best, interesting museums and cultural experiences will entertain both young and old on a rainy day. The city has plenty of cafes and restaurants, as well as a pulsating night-life allowing you to experience the flourishing local music scene.
 INFORMATION
Port taxes:
0,00 m. - 8,99 m.    210,00 DKK
9,00 m. - 11,99 m.   240,00 DKK
12,00 m. - 14,99 m.  290,00 DKK
15,00 m. - 19,99 m.3  40,00 DKK
20,00 m. - 29,99 m.  440,00 DKK
30,00 m. - 0,00 m.  1.000,00 DKK
Further information:
Phone + 45 6223 3080
 E-mail: havn@svendborg.dk
Homepage: https://www.svendborg-havn.dk/