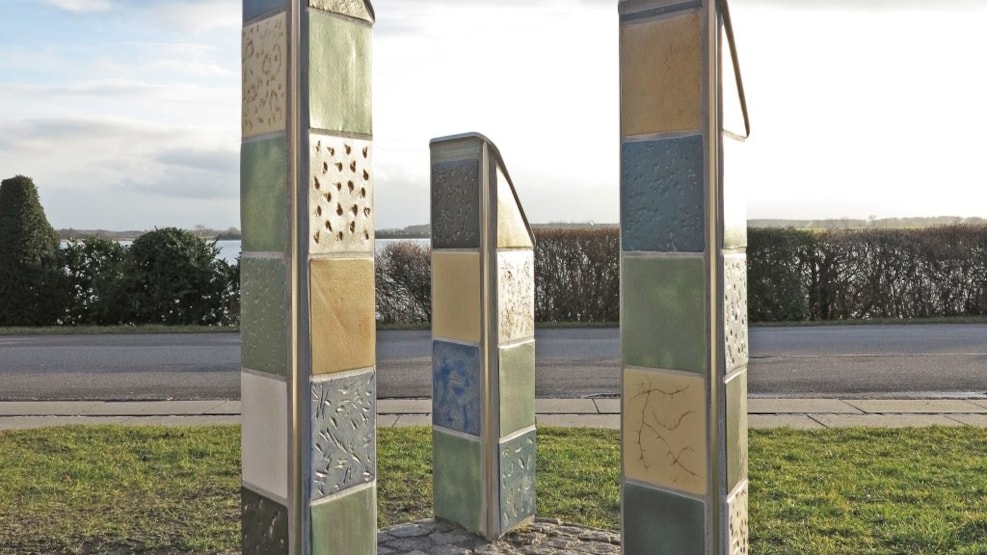 Three Pillars
The three pillars symbolize the fjord and the people who live close to the sea.
The artwork Tre Søjler (Three Pillars) was erected in October 2014 at the Ved Fjorden development, which is located at the end of Vestergade. The three pillars are covered with ceramic tiles, all of which are decorated with signs either for the human journey or for life in the fjord.
According to the artist, the idea of ​​the artwork is precisely to symbolize the interaction between the fjord and the people who live close to the water. The artwork has been developed in close collaboration with the board for the residents of Domea's Ved Fjorden branch.
- The starting point has also been that it should not be a sculpture that makes noise due to its presence, Helle Fabricius told Kjerteminde Avis. - It must quietly contain a story that the residents might want to fantasize about, or maybe talk to their grandchildren about.
About the artist
The ceramist Helle Fabricius, born 1960, describes herself as an artisan. She has her workshop in Dalby on Hindsholm, where she produces ceramics, porcelain and raku, often as utility items.
Helle Fabricius also delivers larger commissions, e.g. for schools and other institutions.