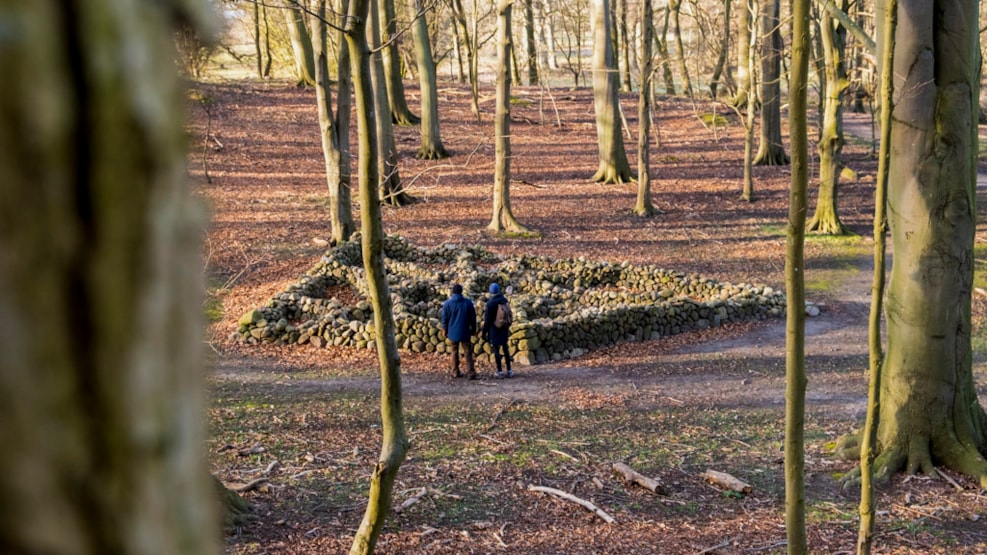 TICKON: Diamond Mines, Dan Snow
The American artist Dan Snow build a 'diamond' from loose stones, its facets contain a total of 85 different angles.
Diamond Mines
Artist: Dan Snow
Installed: 2011
N.B. An admission fee (25kr) is payable to enter the Castle Park.
A Challenge
When Dan Snow came to TICKON to built this work, he found himself presented with a bit of a challenge. Although he is a certified master "dry stone waller", stones here in Denmark are fundamentally different from those he worked with in England. In England we was used to working with angular quarried stone. In Denmark only rounded field stones are available.
But despite this the English-trained American artist did not give up. Like all of his artworks around the world, Diamond Mines proved to be a fine, rigorous composition when it finally stood completed, one autumn day in 2011.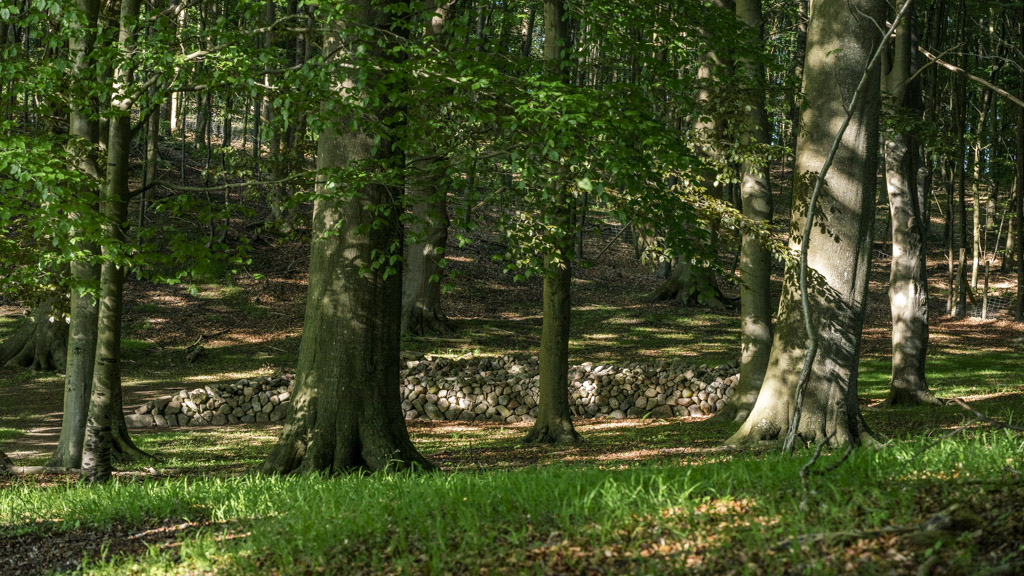 On a west facing slope, surrounded by mature beech trees and facing the red wall of the castle, Diamond Mines presents a stone rhomboid construction containing 19 internal diamond-like spaces. The outer walls of work all slope down towards the tip of the sculpture.
Dan Snow created the work using totally straight lines, and the figure contains a total of eighty-five obtuse and acute angles.
Dan Snow
Dan Snow was born in 1951 in the USA. He studied at the Pratt Institute for Art and Design, Brooklyn, New York. He is also one of the few Americans to have completed training in the craft of 'Dry Stone Walling', which is a method of building walls without any form or mortar or cement, but by simply using the weight and shape of the stones themselves. He has received several awards for his skills, which he now uses in his art projects.
Read more
Read more about TICKON here.