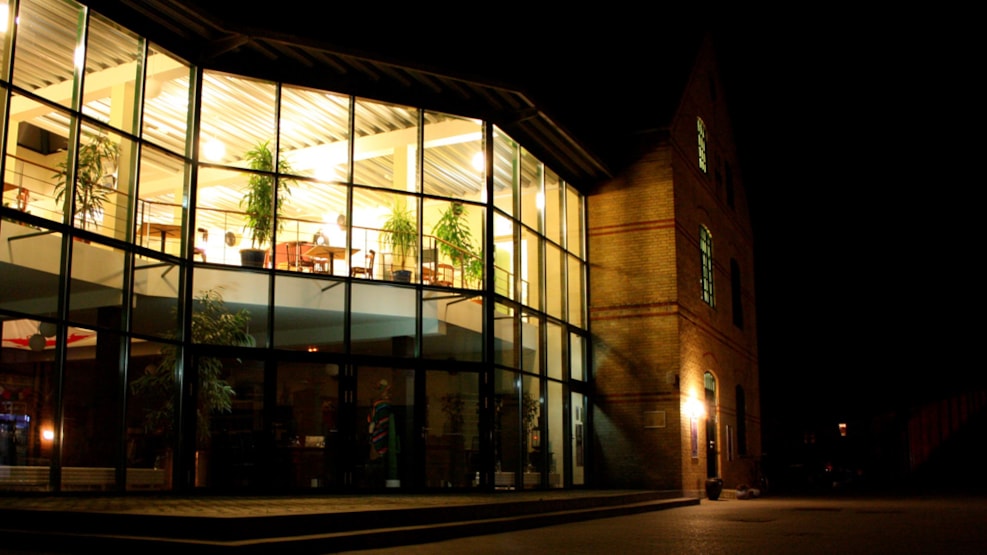 Tobaksgaarden/Cultural Centre in Assens.
Tobaksgaarden –
Assens Cultural Centre covers almost 3,000 square metres of facilities including exhibition rooms, an auditorium for music
and theatre, a restaurant, a music school and a number of small meeting rooms and seminar rooms for use
by association activities and the business community.

The centre's music venue "Jacob Gade Salen" has especially
made a name for itself in the music world by hosting more than 80
concerts a year. Remember to check out the calendar
of concert events at www.tobaksgaarden.dk.
 
The cinema shows films every day of the week (except Monday) at 7.00 p.m. and weekends also at 3 p.m.
See the film calendar at www.tobaksgaarden.dk.

Tickets for both films and concerts can
be booked via www.tobaksgaarden.dk or during office opening hours on tel. (+45) 6471 2031.

Opening hours:
Monday-Friday at 10-15 o´clock.

The aktivities in the house are going off Monday to Sunday from 10 a.m. to 10 p.m..

Further details about Tobaksgaarden – Assens Cultural Centre are found at www.tobaksgaarden.dk.