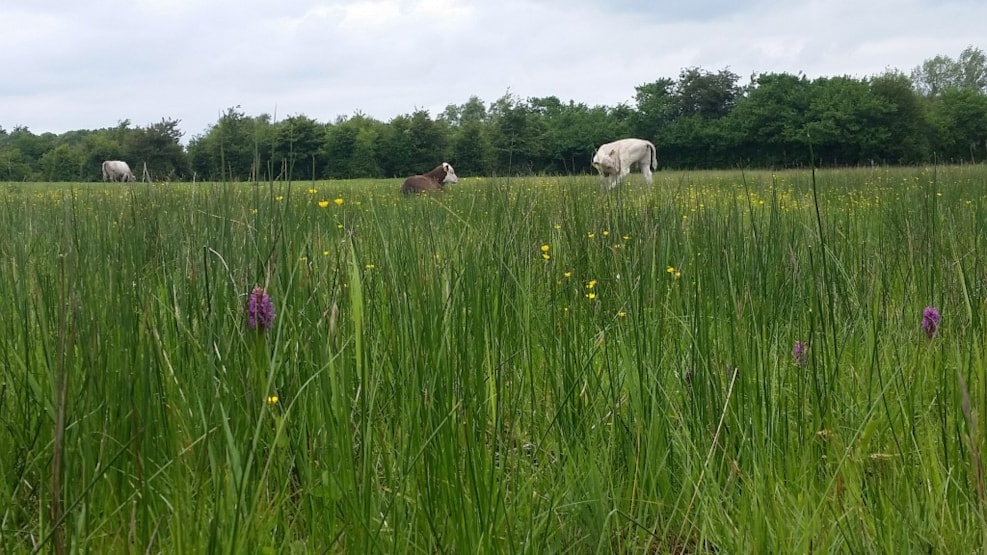 Urup Dam
All year round, exciting nature experiences await in Urup Dam.
There is always something new to see when you visit Urup Dam. The many plant species bloom at different times from March to October. From May to July, the beautiful orchids bloom. It is also during this period that there are good chances of hearing the varied song of the nightingale in the thicket and seeing the harrier soar over the bog.
If you are lucky, in the spring you can see cranes visiting the marsh, and it is not uncommon for the sea eagle to soar past. In the winter there is a special atmosphere in the bog. The livestock graze in the bog all year round, and deer and hares are often seen in the paddock.
A unique Funen bog area
Urup Dam is a completely unique bog area with a particularly rich variety of vegetation. The bog is particularly known for its orchid-rich riches.
There are 6 different orchid species in the bog. Rigkær is a special type of bog, which is characterized by the fact that calcareous and nutrient-poor groundwater is supplied. In addition to the sedges, the rare natural type chaff bunch moss occurs in some places.
Protected nature
In 1973, the central part of the bog was protected due to the botanical values ​​of the area. In the bog area there are approx. 400 different plant species, several of which are rare in Denmark, e.g. the orchids, mosquito flower, swamp hole lip, as well as meadow gentian, vibefat and yellow star.
The Urup Dam footpath
Urup Dam is an unusually well-preserved reservoir with a flora rarely seen in Denmark. A 3 km long, very varied tramping path goes through different types of nature. There are good picnic areas and information boards along the way.
The footpath is not suitable for prams and wheelchairs. Sturdy footwear is recommended.
The bog is owned by private landowners and Kerteminde Municipality. There is no access to the paddocks without prior agreement with the owners.