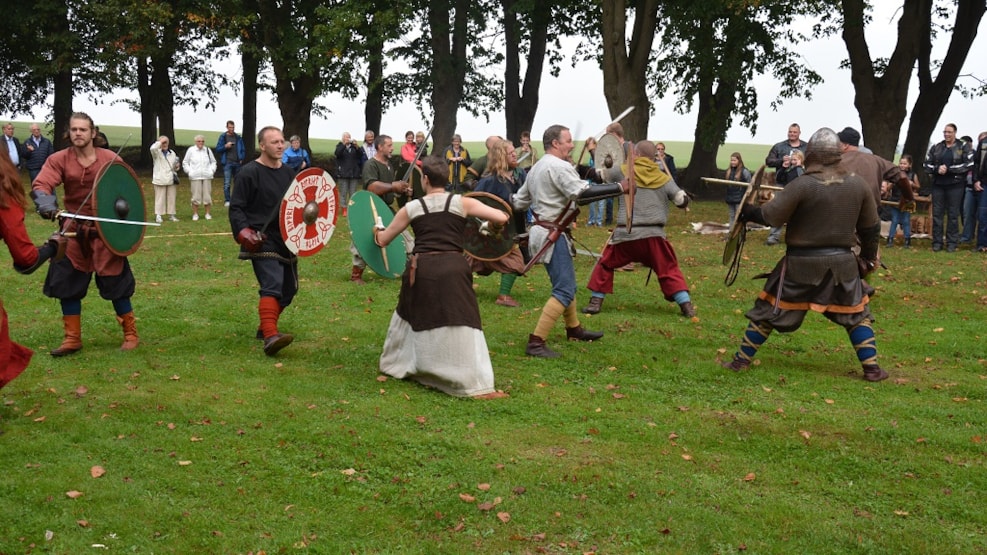 Viking Market in the Glavendrup Grove
There are market booths, sword fights, Viking games and a good mood when the Vikings invade the Glavendrup grove!
Help invade the Glavendrup Grove when more than 200 Vikings move into the grove on the first weekend in September. There is plenty of action and fun with the Viking fighting show, archery, fire shows, a straw playground, warrior school for kids and many other Viking games for the whole family.
Workshops, stalls and good Viking food
There are also stalls where you can buy a little of everything and you see the Vikings work in their workshops where they make jewelry, leather goods, colour yarn, weave wicker and much more. You can also hear legends and tall tales from the Viking Age, see live owls and get a guided tour of the grove and hear much more about the place and the history of the Glavendrup Grove.
You can buy your own thrall... You can also buy local delicacies at several stalls and try a light Viking menu. If you need a little strengthening after watching the Viking match, you can of course also buy coffee, cake, beer and water.

Parking on the fields at the Glavendrup Grove.