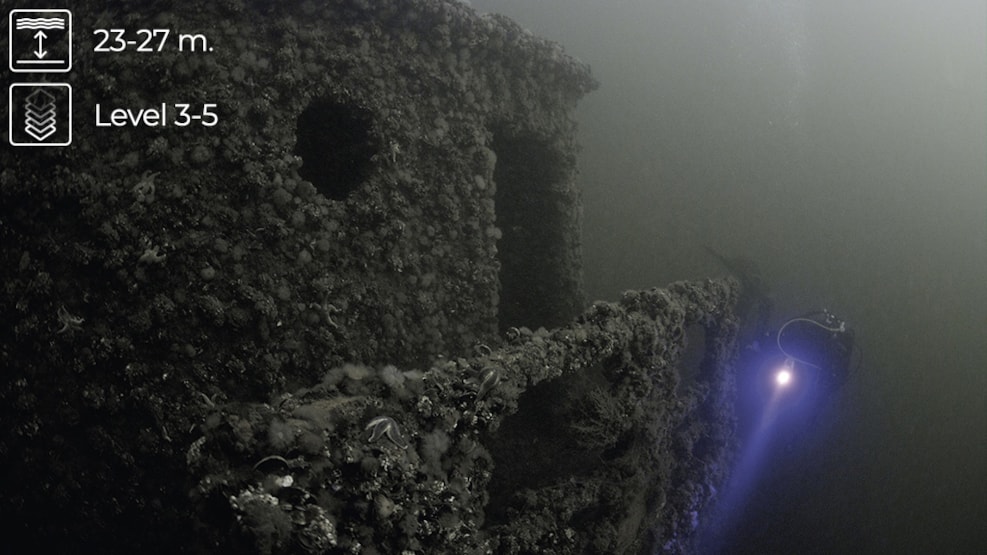 Wreck dive: M1108 / Dr. Eichelbaum - The northern part of the Langeland Belt
This ship was lost on 13th April 1940, and today rests on the bottom of the Langelands Belt. It is a beautiful wreck, largely intact and is today visited by many divers.
Wreck Type
Armed trawler. Built in 1937 in Germany as a fishing trawler
Length: about 53m.
Width: about 8m.
Nationality: German.

Depth: From 23 - 27m.
Highlights: The whole ship.

Safety
You must always fly the A-flag when diving, a boat handler should remain on board when divers are in the water.

Visibility: Normally okay.
Currents: From 0 - 3 knots.

Photography
The bows, superstructure, davits etc.

About M1108 / Dr. Eichelbaum
The M1108 started out as a steam powered fishing trawler, built to provide food for a nation close to war. The ship was built and launched in Hamburg in 1937, with the registration HH 223 and name Dr. Eichelbaum. On the 22nd September 1939 the ship began service in the German Kriegsmarine's 11th minesweeping squadron as a lookout boat and to help with mine sweeping, with the number M1108.

The ship met it's end on the 13th April 1940 when it was rammed by the steamer S/S Scandia which was operated by the coal merchants "De Forenede Kulimportørers". The M1108 sank quickly, but most of the crew managed to abandon the ship in time, with the loss of a single sailor. Today it rests on the bottom of the Langelands Belt, and is visited by many divers as it is a beautiful wreck and largely intact.

The wreck stands nearly completely upright on the seabed, making it easy to navigate. It is possible to start your dive at either end of the wreck, but for the first time visitor the bows are the best place to start. Here, if visibility is good, you can get a great overview of the front part of the ship.

The railings in front of the bows are still reasonably intact, and after you have taken a good look around, swim over the foredeck and the hatches which lead to the hold. It is possible to penetrate into the hold, but only do so if you have the experience, correct equipment and training. The wreck has already claimed one victim, and there is memorial plaque dedicated to the diver who perished here.

Today the wheelhouse is partly destroyed and easily penetrated. It is well worth a visit even though it has been thoroughly plundered. The boat is overgrown with masses of sea-anemones, tunicates and other invertebrates. The superstructure behind the bridge is also very interesting, and it is here you can see the davits, which are still in place, only missing their lifeboat.
| | | |
| --- | --- | --- |
| (lat) | 55.097150 | N55°05.829' |
| (long) | 11.041020 | E11°02.461' |
|   | ddd.ddddd° | hddd°mm.mmm' |