Stay like a royal at Broholm Castle
You will find Broholm Castle in the beautiful nature on the southern part of Fyn – the place is like a fairytale complete with towers, spires, a moat and a big park. Book a luxurious stay at Broholm Castle and go on an exciting journey almost 700 years back in time.
When you wake up in one of the beds at Broholm Castle, it is almost like waking up in the bed of a prince or princess. The castle has 16 rooms, all decorated individually with original furniture.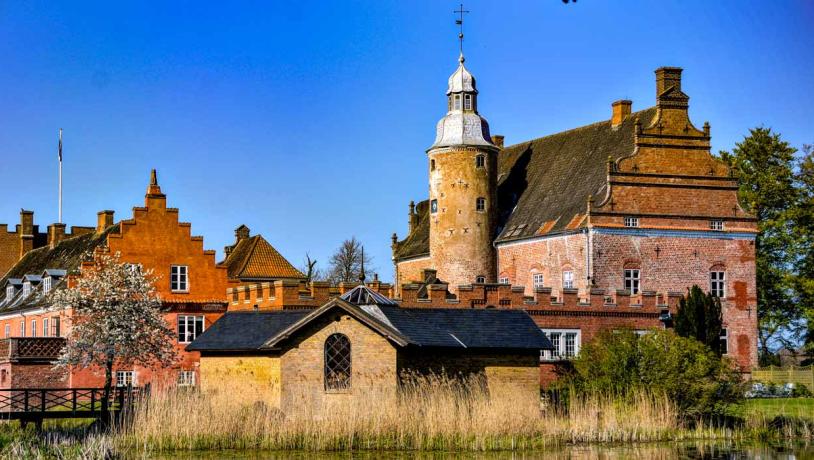 Photo:Destination Fyn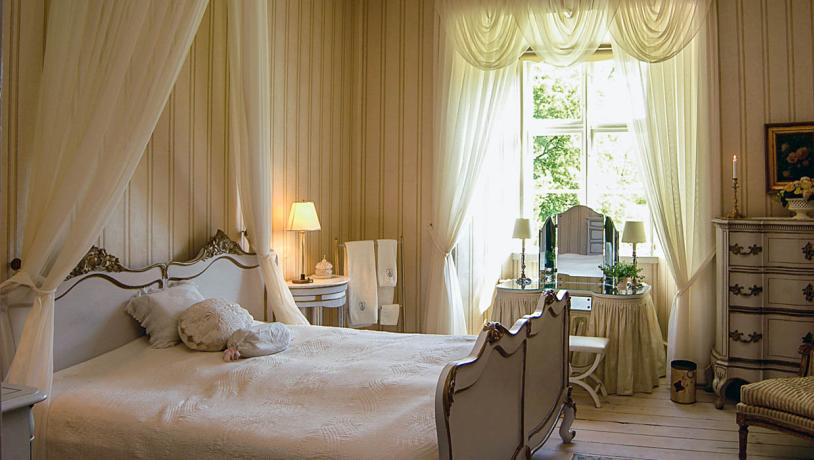 Photo:Destination Fyn
Visit the castle's gourmet restaurant and castle shop
The restaurant is in the castle's old tenant's house. Here you can enjoy seasonal and local ingredients as they are transformed to delicious courses. The kitchen focuses on ingredients from local suppliers, their own garden and the archipelago of southern Fyn.
If you want to bring home some of Broholm's delicious treats, you must visit the castle shop. Here you can buy jam, pickled fruit, vinegar, Konnerup chocolate, delicious cookies, fresh cordinal and juice and local schnapps, and many other delicious treats.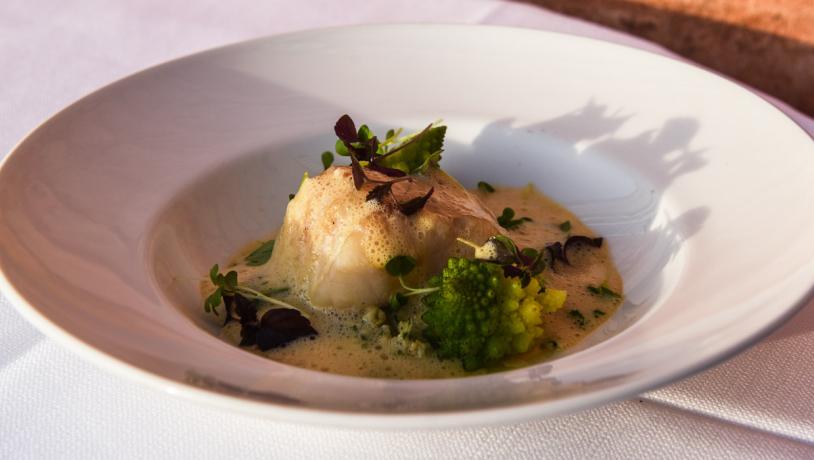 Photo:Destination Fyn
Broholm offers lots of interesting experiences
A stay at Broholm Castle is not only about gourmet food and historic surroundings – there are lots of other interesting experiences in and around the castle.
The park surrounding the castle is something quite special – the fairy-tale track takes you through the park which includes a lake, a watermill and wild forest with old trees. You can also play a game of croquet.
Longing for some historic action? Visit the chamberlain's stone age museum. Here you will find the antiquity collection of more than 60.000 flint tools and other stone age finds. Read more about the museum right here.
A piece of history
The castle's history dates all the way back to 1326. Through the years, the castles has been owned by different families. In 1730 the current family, the Sehested family, took over the castle. Today the 13th generation of the family resides at the castles.
The castle has named an apple – the Broholm apple. The mother tree stood in the park and dates all the way back to 1866. Today you will find lots of apples trees around the castle. The juicy little apple is used to produce local fruit brandy which can be bought at the castle shop.
The castle has also named a rare Danish dog breed – the Broholm dog – which dates back to the late 1500s. Chamberlain N.F.B. Sehested bred the dog until he died and ensured the breed's survival in Denmark. 
Coordinates
Longitude: 10.727913
Latitude: 55.137146