The Baltic Sea Cycle Route Stage 10 - Svendborg-Assens
COAST OF SOUTHERN FYN – THE SOUTHERN FYN ARCHIPELAGO – 'A HEARTFELT WELCOME' TO EGESKOV CASTLE – THE ARCHIPELAGO MUSEUM – OUTDOOR ACTIVITIES – THE SEAPORTS OF SVENDBORG, FAABORG AND ASSENS – THE ALPS OF FYN – THE VIEWS OF THE PAINTERS ON FYN – ENTHUSIASTIC CAR COLLECTORS MUSEUM – THE CHARA
Stage 10 gives you the very best of the archipelago and a great insight into the three seaports of Svendborg, Faaborg and Assens. Each area has its own distinctive character, so it will be up to you to choose which one is your favourite. In between these Towns, you will find charming little villages where life on southern Fyn has its very own ambience with either outdoor activities to partake in, or the quiet life to enjoy.
The journey from Svendborg to Assens is close to the coast, so you are never far from a beach stop. You are furthest from the shore when you cycle in towards the Alps of Fyn, also called the 'Svanninge Bakker'. Still, even here you will be able to see the archipelago from the many vista points. You ride on lovely, quiet little roads, flanked by fields and forests, with timber-framed houses.
You can take a few detours along the way, maybe Egeskov Castle or the most beautiful, untouched countryside of the peninsulas of Helnæs and Thorø Huse. Perhaps do some island hopping in the summer months, from Faaborg Harbour. It is incredibly popular, so book early to secure your space.
If you choose to start Stage 10 beginning in Assens, it is possible to continue onwards from Svendborg, on Stage 1, by taking the ferry to Ærø. Or, you can take Stage 2 to Nakskov via the ferry from Langeland, or Stage 9 through Nyborg and across Storebælt to Korsør.
Egeskov Castle
Egeskov Castle is Fyn's second largest tourist attraction and one not to be missed. The castle is the largest, most well-preserved moat castle in Europe. It is surrounded by an idyllic, awardwinning park with flowers, mazes and ancient trees.
This living castle with its hospitable motto 'We wish you a heartfelt welcome' is the home of the the Ahlefeldt-Laurvig-Bille family.
There is a wonderful collection of rare planes, cars and motorbikes in the classic car exhibition and you can visit the world's most wondrous dolls house 'Titanias Palace'. Should you like a little horror, you can seek out the Crypt of Dracula.
Egeskov is open from May to mid-October and again for the Christmas Market and the light experience 'Luminis'.
To get to the castle from the Baltic Sea Cycle Route requires a 16km detour as it is located in the middle of Fyn, near Kværndrup and is a 'must visit' on Fyn.
For more information go to egeskov.dk/en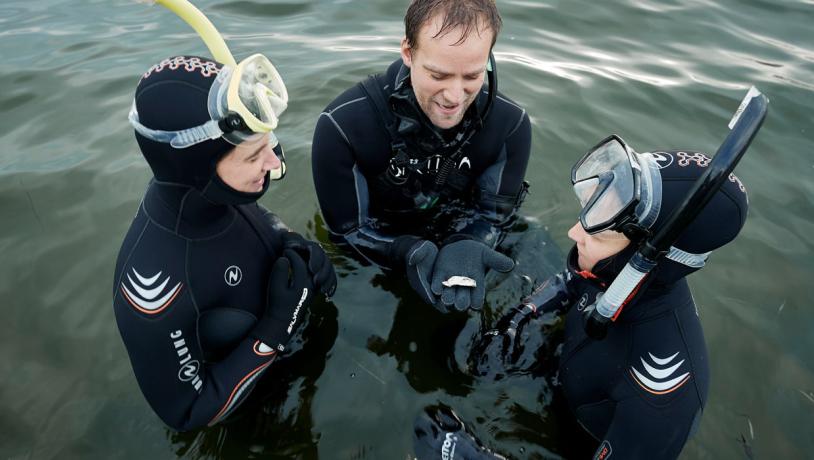 Photo:Øhavsmuseet
The Archipelago Museum (Øhavsmuseet)
The Archipelago Museum in Faaborg has a wealth of exhibitions and activities; 'The Arrest' allows you to feel what it is like to be behind bars. Kaleko Mill and the old merchant's courtyard has an ambience of the days of yore that has enthralled many a visitor. The Archipelago Museum also has plenty of outdoor tours and activities on offer such as Snorkelling Your Way to the Stone Age, Riding in the Ice Age and Bike & Wine tours.

For more information go to ohavsmuseet.dk/en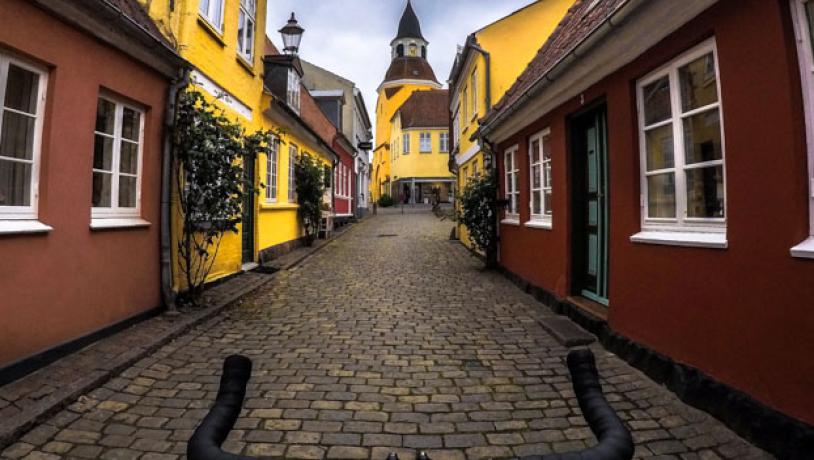 Photo:Behind Handlebars
Faaborg Town
Faaborg is a picturesque town, with the archipelago in its front garden and the Alps of Fyn to the back. If you are looking for a quintessentially Danish town with hollyhocks and rickety old houses springing out of cobbled streets, then you are in the right place. The delightfully coloured houses and the tiny streets give the town its very own charm. Time flies as you explore one of the country's very oldest towns. Faaborg is also a top destination for sailors and the perfect place from which to go island hopping.
For more information go to visitfaaborg.com
Svanninge Bakker
Svanninge Bakker, also known as the Alps of Fyn, is the largest, connected, forest and wildlife area on Fyn. You can wander by foot or ride your bike and explore the hilly landscape that has been the inspiration for many of Fyn's artists. In this area, you can also find Svanninge Church, Arreskov Lake, Brahetrolleborg Castle and church, as well as the viewing tower, where, on a clear day you can see all the way to Als.
For more information go to visitfaaborg.com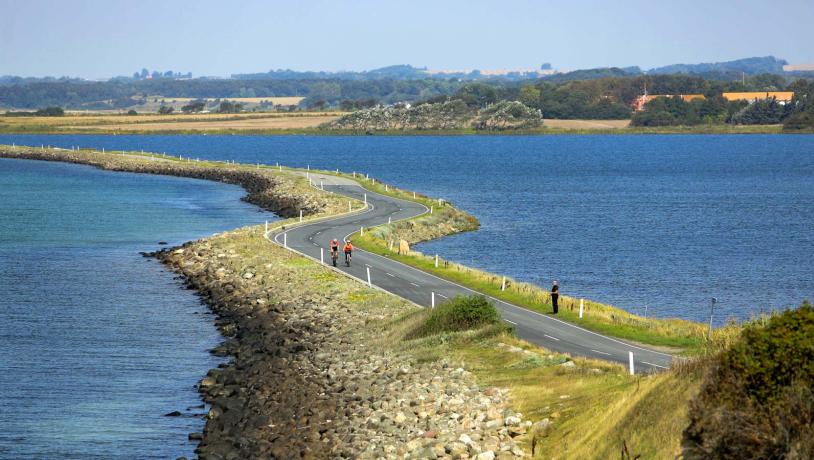 Photo:Morten Storch
The Half Island of Helnæs
Helnæs is a small peninsula with a unique scenery, a cultural life and an exciting past. The name stems from the word 'holy' and may have been a place where the prehistoric gods were worshipped. The bike ride along the sea between Fyn and the peninsula leaves you with a special impression and you can often meet fishermen, kite and windsurfers at the water's edge. At Helnæs you can enjoy nature both at sea and on land. Find your walking shoes and take a walk in the Bobakker or enjoy a delicious meal at the Helnæs Kro.
For more information go to visitassensinfo.com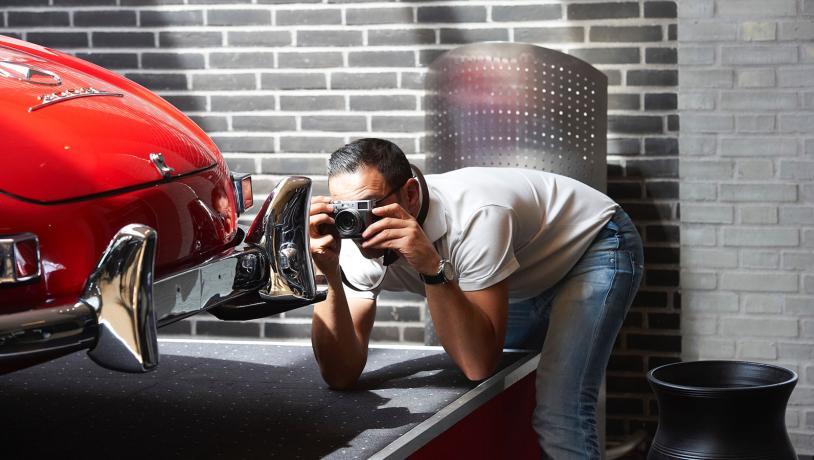 Photo:VisitFyn
The Strøjer Collection
Forget everything you know about dusty old cars. In Jørgen Strøjers private garage in Assens, you will find cars way beyond your imagination. There are more than 100 unique cars in the collection. There are royal cars, Le Mans cars, racing cars, and Grand Prix cars, all with enchanting stories about their previous owners or how they were used on special occasions. One such car is the charcoal grey Aston Martin, used in the James Bond film 'Die Another Day'.
The collection is open by appointment.
For more information go to strojersamlingen.dk