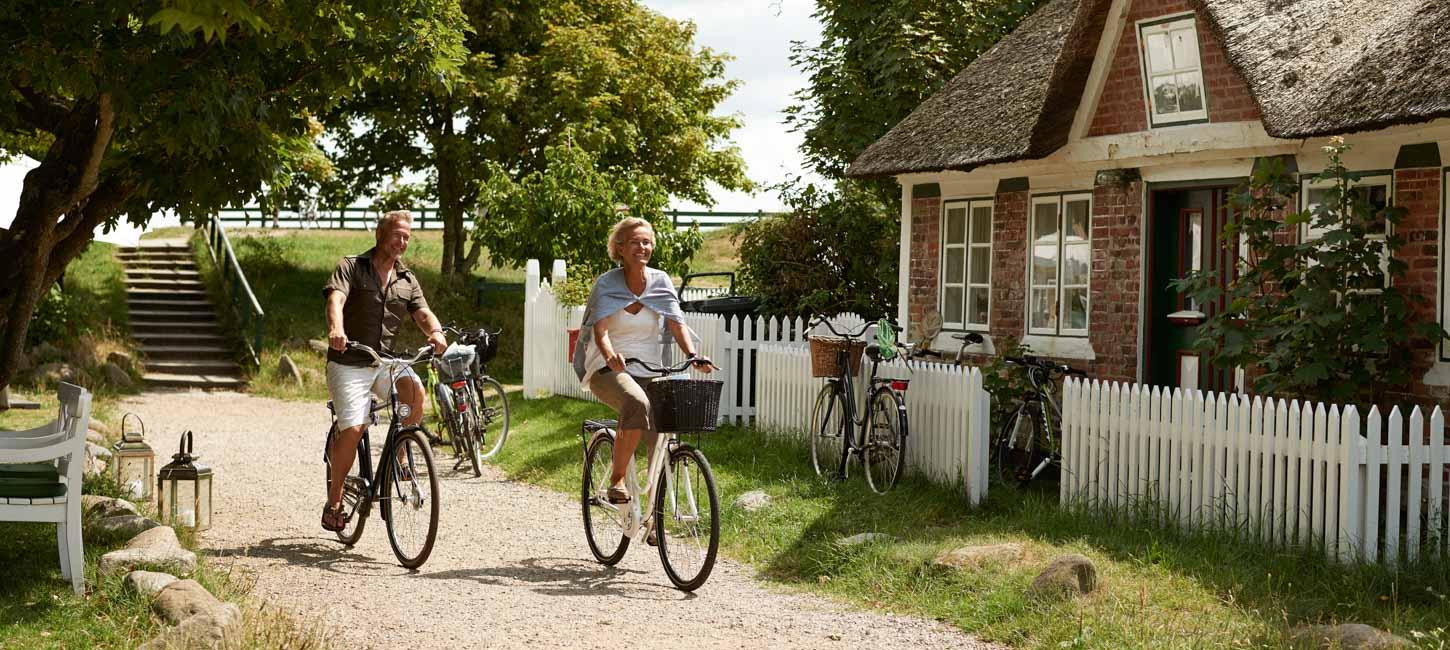 Checklist: How to plan the perfect cycling holiday
Are you dreaming of a holiday with an absolute feeling of freedom? Where the landscape is passing by in a pace where no hollyhock, roadside stand or perfect picnic spot evade your eye? Well then, how about a cycling holiday on Fyn?
Get safely to the planning finish line with this checklis
1. What kind of cycling holiday are you dreaming about?
Are you into long-distance cycling, a cycling holiday with the family or perhaps shorter daytrips from your holiday home or the camping site? Fyn has cycle routes full of experiences in different length and difficulty. Maybe you have brought your road bike, mountain bike or gravel bike and are looking for some challenging tracks and routes?
Even though the possibilities for cycling are almost infinite on Fyn, you can make the planning a little easier if you boil down your wishes to one or two genres.
2.

When do you want to visit Fyn?
The people on Fyn will always welcome you with open arms – nevertheless it can be a good idea to think about when you want to visit Fyn. The high season is in July and August – this is when the Danish schools are closed for the summer holiday. At this time, Fyn and the surroundind islands are buzzing with life and even the most remote café is open for business. However May, June and September are also ideal for a cycling holiday on Fyn, and in Denmark in general – this time of year you will generally meet less people in and around Fyn. The rest of the year is perfect for some dirty mountain biking – check out the tracks right here.
3.

Package trip or do-it-yourself cycling holiday?
Would you like getting a locally known travel agent to arrange a perfectly balanced route and a newly made bed at the end of the day? Or do you love the planning stage and the freedom to impulsively staying longer at a great location? Both have up- and downsides – and on Fyn and the surrounding islands you can have both ways.
See which travel agencies are offering package trips on Fyn and the surrounding islands.
Get inspiration from the cycle routes on Fyn or plan your own route in DenmarkbyBike/Naviki – you can find an introduction to the platform here.
4.

What kind of terrain do you prefer?
Fyn is known for being mostly flat, but there are areas where you most definitely will feel your pulse pounding away. You could visit Svanninge Bakker – also known as the Alpes of Fyn. You can check out the height curves on all of our tracks, but don't worry, your electric bike can handle them all.
5.

How many days do you want to be on the road?

 
The number of days on your bike is crucial as to how far you can get around Fyn and the surrounding islands.
Furthermore, you must decide if you want to go from place to place or if you want to stay in just one place and go on day trips from there. Both models are perfect for a cycle holiday on Fyn, as you are never more than 30 kilometers from the nearest shore, and historical, gastronomical, cultural and nature experiences are just around the corner.
 
6.

What type of accomodation do you prefer?
Some swear to the calmness of nature in a shelter or a tent, while others enjoy checking in at a local hotel or Bed and Breakfast where the bed is comfortable, and breakfast is ready every morning.
On Fyn we have several bike-friendly accommodation which pay particular attention to pampering the cycling tourist and their needs. This means that they have a Bike Station, where you can adjust your bike, park your bike with a lock or order a packed lunch for tomorrows bike ride.
Take a look at the many possibilities of accommodation on Fyn.
7. Don't skimp on equipment
Your cycling holiday will get a bit more fun if you have a great bike. So you have to decide – do you want to bring your own bike or do you want to rent one locally? There are plenty of possibilities for renting a bike on Fyn. Many places where you can spend the night also have bike rental agreements which are worth checking out.
8. Big problems turn small on Fyn
It can be difficult to prepare yourself for everything when you go off on your bike. Make sure to always have a first aid kit and a repair kit with you. And should you forget the latter, just remember that we have over 200 Bike Friends on Fyn who are always ready with a repair kit and a pump. Here you can also fill up your water bottle and get help to find the nearest restroom and where to buy our cycling maps.
Furthermore, we have several Bike Stations on Fyn, where you can adjust your bike. If you experience an even bigger problem, don't worry – we have lots of skilled bicycle mechanics who are happy to make your bike as good as new.
9.

Stop at the big, small and unique experiences
On our map of the bike routes on Fyn, you can see which attractions, nature areas and restaurants are the closest to your route. You can also find these attraction locations by clicking on the nine dots in the top right corner in the map database Denmarkbybike/Naviki. Then you choose the categories you like. Learn more about how to use the platform here.
You can also take a look at visitfyn.com and find inspiration to great experiences on Fyn and the surrounding islands.
10.

What do you want to eat during the trip?
Fyn is known as being the garden of Denmark with its big production of vegetables and fruit. Over the past several years the food scene has blossomed immensely. So, whether you are into our traditional Danish open-faced ryebread sandwiches (højtbelagt smørrebrød), mouthwatering street food or great gastronomic restaurants that are breathing the Michelin restaurants down the neck, Fyn bring its a-game. Or maybe you would like to prepare your own meal with local produce from one of our many food markets.
Get a glimpse of the gastronomic world on Fyn right here.
11.

And finally a true classic – How is the weather on Fyn?
We won't lie to you: as a cycling tourist on Fyn and the surrounding island you most often get the whole package – sunshine, clouds, rain and a bit of wind. You know what? It is actually the charming thing about being a cycling tourist in a Scandinavian country. Also, dinner taste a lot better when you have given it your all on the bike in a warm summer rain shower. Can't you just smell the wet and warm asphalt? So pack your shorts, swimsuit and rain gear and we promise you will be prepared for your cycling holiday on Fyn.