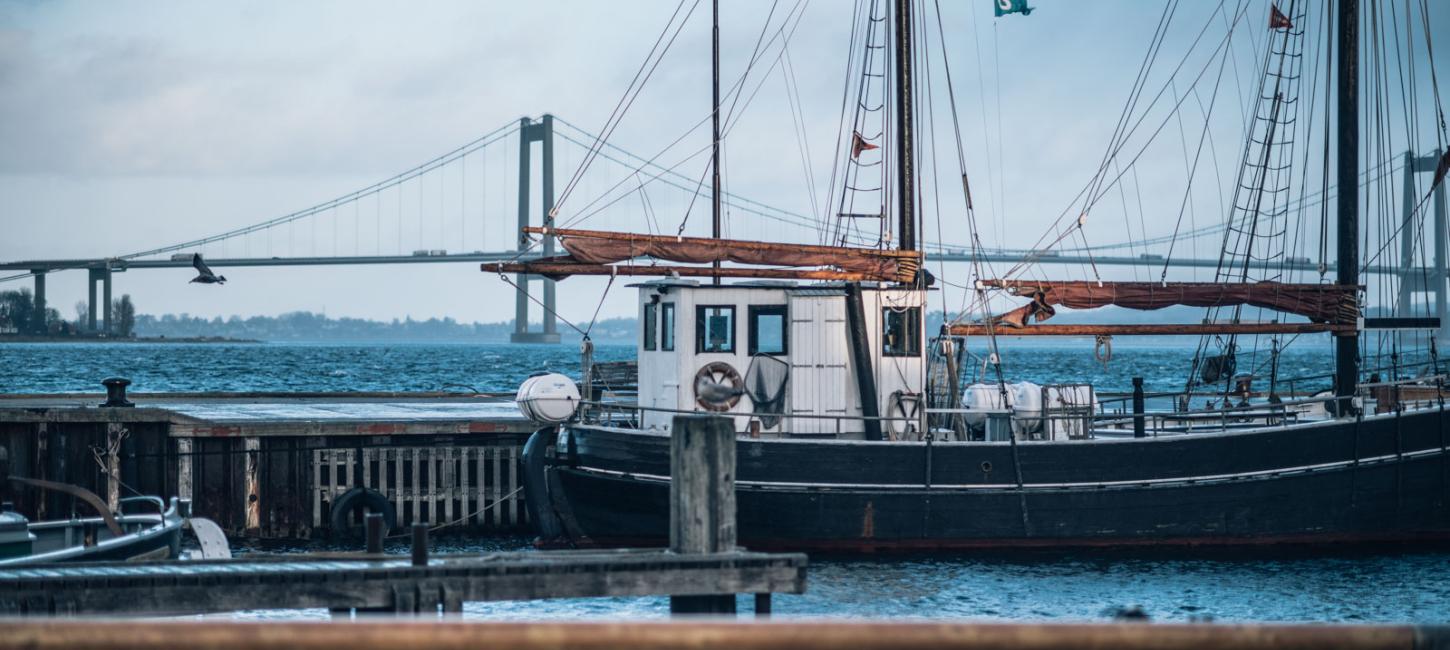 The Baltic Sea Cycle Route Stage 11 - Assens-Middelfart
Photo:
Andreas Bastiansen
LILLEBÆLT AND WEST FYN – BENDS, BAYS AND FJORDS - BRIDGEWALKING LILLEBÆLT – SPECTACULAR VIEWS – WHALE SAFARI FROM THE OLD PORT IN MIDDELFART – HINDSGAVL PENINSULA NATURE RESERVE – EVENING WALKS IN ASSENS' PAST – TROLLEY CYCLING – CLAY CERAMIC MUSEUM
The town of Assens is absolutely worth exploring so before you go further along Stage 11, have a good look around. The beautiful 'Church of Our Lady' is a must. The harbour is still a thriving, maritime community, and the old town is wonderfully atmospheric.
From Assens you ride north towards Aborg Strand (beach), a perfect place to rest, with benches and tables to sit at. To extend your rest time a little, pop by the beach at Sandager Næs, for a quick dip.
On your way to Middelfart, you stay close to the south-westerly coast, making your way over to Føns Strand, Ronæs Bridge and Svinø. Before entering the centre of Middelfart, make a quick detour and ride around Hindsgavl Peninsula, one of the most stunning coastal regions in Denmark with a nature reserve and castle ruins from the 13th century, that sit right on the water's edge.
Reach for the sky in Middelfart with Bridgewalking on top of the old Lillebælt Bridge. There are beaches, a vibrant town life to enjoy. If you would rather explore Middelfart from the water, embark on a Whale Safari on Lillebælt.
It is also possible to start Stage 11 in Middelfart and ride in the opposite direction, to Assens – from here you continue onto Stage 10.
Photo:VisitFyn
Bridgewalking Lillebælt
You can go to Sydney or Lillebælt. At both these places you can, if you dare, walk on top of a bridge and enjoy the spectacular and unimpeded view and even enjoy the sinking feeling in your stomach as a train rattles beneath you.
With Bridgewalking Lillebælt you are taken on a guided walking tour, 60 meters high, on the old Lillebælt Bridge. Safety is, of course, a priority, as is the view! As you walk, your tour guide will tell you all about the architecture of the bridge, its history, how it was built and the sights around the area of Lillebælt.
When the tour is over, there are plenty of opportunities to relax, play and picnic, near the Information Centre.
For more information go to bridgewalking.com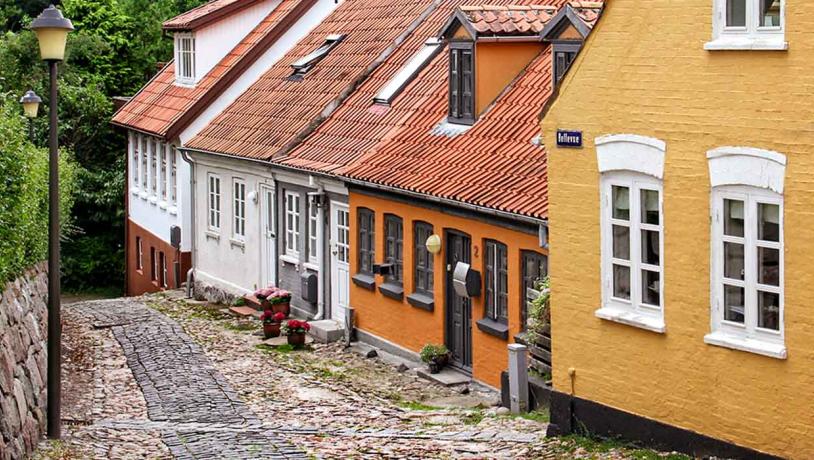 Photo:VisitFyn
The Market Town of Assens
This unspoiled market town has a proud maritime history. From the Middle Ages onwards to the opening of the old Lillebælt Bridge in the 20th Century, Assens was the primary crossing route from Fyn to Schleswig, and therefore a lively hub of activity between Copenhagen and Hamburg. Its varied history can also be seen if you wander into 'The Church of Our Lady' in Assens, which is Fyn's second-largest church. Visit the Museum of West Fyn and take a guided evening tour through 19th Century Assens.
For more information go to visitassensinfo.com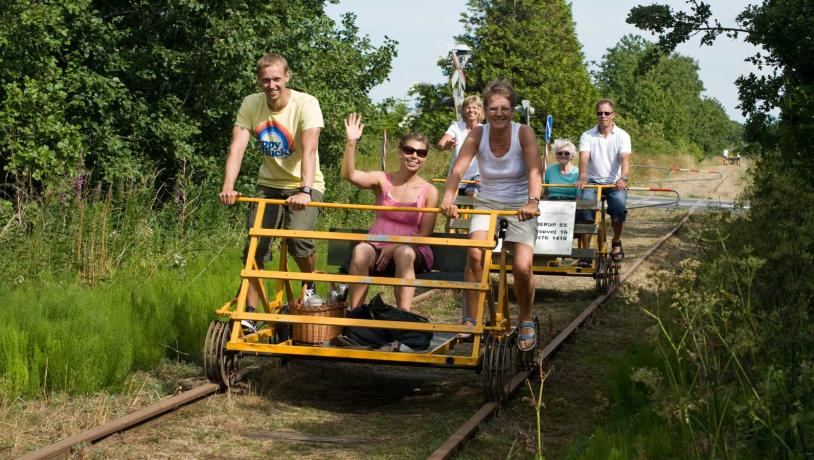 Photo:Torben Mougaard
Trolley Cycling
There is an alternative way to enjoy the countryside of Fyn – a trolley bike! The route is about 30km long and winds its way between Assens and Tommerup Station, on a wonderfully old, disused railroad. As you ride, you will see Dreslette Church, The Bay of Helnæs and the old fishing village of Thurø Huse. The trolley bikes are easy to pedal, and there is enough room for three or four people per bike. The trolley bikes are available from April to October. Remember to book in advance.
For more information go to visitassensinfo.com
CLAY Ceramic Museum of Denmark
CLAY is a specialised museum for ceramic art, craft and design. It houses one of Europe's most impressive collections of ceramics. There are porcelain works, stone works and earthenware from the illustrious Danish ceramic factories like Royal Copenhagen – the Royal Porcelain Manufacturer, Bing & Grøndahl and Aluminia. The architecture of the museum and the surrounding Sculpture Park with views to Lillebælt is something to behold. Take a well-deserved coffee break in the café!
For more information go to claymuseum.dk/en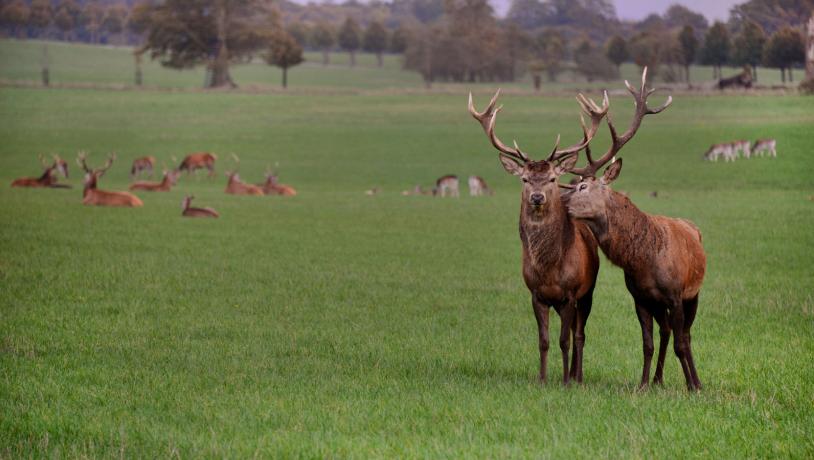 Photo:Robert Lacy
Hindsgavl Peninsula
This recreational countryside is home to Hindsgavl Nature Reserve and Deer Park, the 'Nature Centre Hindsgavl' as well as the Welcome and Information Centre for Bridgewalking Lillebælt. There is a fantastic 10km walk you can do along the coast from the old harbour to Teglgård called 'pynten rundt'. It takes around four hours. The Deer Park has a large population of red and fallow deer, which be seen on the plains and in the forests. You'll also find a play area and a place to cook food over a fire, near the Nature Centre.
For more information go to visitlillebaelt.com
Photo:VisitLillebælt
Whale Safari on Lillebælt
Lillebælt is one of the most whale-rich waters in the world. This is the place to go if you wish to see one of the smallest whales, the Harbour Porpoise, up close. There are several different tour operators that will take you on a whale safari from the old harbour in Middelfart. Once you are on the water, you pass under either the new or the old Lillebælt Bridge.
While on-board, rest those weary legs, sit back and enjoy the blue waters of Lillebælt and the view of the beautiful half-island of Hindsgavl and Middelfart town.
For more information go to visitlillebaelt.com