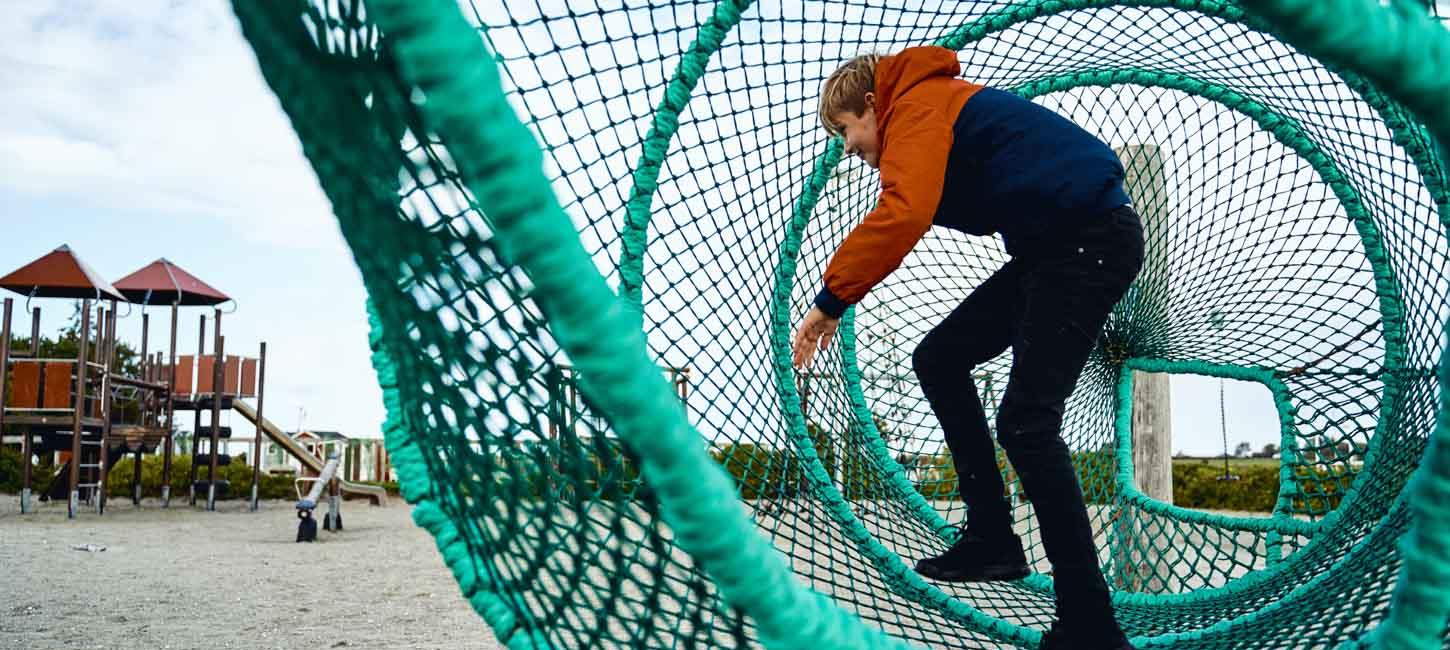 The finest playgrounds on Fyn
Photo:
Kasper Orthmann Andersen
Kids need to blow off some steam? Then head out to the local playgrounds. You'll find them in all shapes and sizes: in the green woods; as a safe haven for children in the heart of town; and as a natural part of the local harbour settings. Admission to all playgrounds is, of course, free.
Assens:


Playground in the woodland
The woodland area in the town of Assens is the site of a delightful playground, idyllically located near the woods and lake, making it the perfect place for fun, games and picnics.
The woodland area can trace its history back to 1827, which means it has served as a favourite meeting point for families for generations.
Address: Skovvej 5, 5610 Assens
Faaborg: 
Troldeland Natural Playground
Located near Gåsebjergsand, Troldeland (Troll Land) Natural Playground is the setting for a host of different activities for children of all ages. Alfeland (Elf Land) is designed to let 3–6-year-olds give free rein to their imagination, while Troldeland itself is better suited to 6–10-year-olds.
Children have every opportunity to create little caves and hide-aways, and you can bring your own kindling and wood to build camp fires in the designated places. The playground also features a large "packed lunch shelter", where up to 50 people can tuck into their sandwiches under the same roof.
Address: Rallebæksgyden, 5600 Faaborg
Kerteminde:
Munkebo Multipark
Get your blood pumping in Munkebo Multipark, which is designed for street sport, outdoor activities, fun, games and all kinds of keep-fit options. Try the viewing and sensory swings and the different climbing nets, or kick back and relax in one of the hammocks. Divide the kids up into teams for a game of swing football or street basketball, while you lace up your running shoes and run a couple of laps of the 1.6 km asphalted path. You can also get together and train your favourite tricks at one of the numerous skateboard and scooter facilities.
And if you need a quick shot of nature, you can relax and unwind at one of the park camp fire sites or spend the night in one of the nearby shelters.
Address: Mosevangen 2, 5330 Munkebo
Langeland:
Bruin's Ship in Bagenkop Harbour
In Bagenkop Harbour, you can go aboard MARY – Bruin's little "skib", where you can join Bruin and his friends in exploring life at sea. Go fishing for all the crabs you can catch, and then see whose crab will be first to walk the plank. Don't forget to bring your fishing net and a bucket!
The ship is launched around Easter every year and stays in the water until the end of October.
Address: Bagenkop Havn, 5935 Bagenkop
Middelfart:
Hindsgavl Nature Centre
The natural playground and Tarzan track at Hindsgavl Nature Centre are the perfect setting for fun, games and quality time with the family.
From the top of the centre you can also admire the view of the magnificent countryside that distinguishes the Hindsgavl Peninsula. The Nature Centre is also an excellent place for picnics and it has access to toilet facilities, a packed lunch area with benches and tables, and covered outdoor areas all year round.
Address: Galsklintvej 2, 5500 Middelfart
North Fyn:


Bogense Natural Playground
Bogense Natural Playground has all kinds of inviting playthings – set in an area of wonderful countryside. Bring your children for a day of fun and let them climb, balance, jump, slide and swing to their hearts' content. The playground is located in a delightful setting neat Barfods Dam, where children can go fishing in the water. There is also a small hut where you can sit and eat your packed lunch if you're caught in a sudden shower. The natural playground is close to Bogense Marina, which also features a fitness playground and a more usual playground for children.
Address: Marinavej 2, 5400 Bogense
Nyborg:
Natural Playground on Strandvænget
Strandvænget park, which covers an area the size of 22 football pitches, is packed with sensory attractions and playthings that are sure to delight children and adults alike.
The beautiful park is located right next to the waters of the Great Belt, and comprises a variety of settings adorned with perennials, tubers, summer flowers, trees and bushes. The park has more than 4 km of paths and trails suitable for disabled people, as well as direct access to a child-friendly beach.
Children have every opportunity to burn off some energy at the playgrounds, which were crowned the best in Denmark in 2012. The playground equipment challenges children to balance on ropes, listen to sounds, see colours, climb and crawl. There are also animal pens where you can see rabbits, goats, chickens and ducks.
And when it's time for lunch, you can prepare your own meal at one of the camp fire sites or eat your packed lunch at the conveniently placed benches and tables.
Everyone is welcome to use the area, as long as you show consideration for Strandvænget's 160 handicapped adult residents.
Address: Strandvænget 1, 5800 Nyborg
Odense:
Playground in Munke Mose
Munke Mose is one of the many green oases in Odense, and it is here you will find a delightful play area equipped with playthings inspired by the natural surroundings: butterburs, tree stumps, birds and so on. Make believe you are Thumbelina from Hans Christian Andersen's famous fairytale, and leap lightly from lily pad to lily pad, or slip into your rubber boots and launch reeds on the current at the little water playground. The playground is especially well suited to younger children.
Address: Munke Mose, 5000 Odense C.
Svendborg:


Christiansminde playground
One of the finest playgrounds on Fyn is located close to the beach in Christiansminde. This is the perfect place for children to while away the hours playing on the swings or letting their inner monkey loose on the climbing frame. For the youngest children, there is a train, an aeroplane, a rocking hen and a see-saw. The playground is close to the water and to an ice cream hut – and the town of Svendborg is only a 15–20 minute walk away.
Address: Christiansmindevej, 5700 Svendborg
Ærø:
Playground at Ærøskøbing Marina
Inspired by the maritime world, the playground at Ærøskøbing Marina is ideal for budding seamen and -women of all ages. Fly fast and free on the zip wire, go for a swing in the fish trap, or train your balancing skills on the see-saw.
And when you have burned off enough energy with all the fun and games, there are barbecues you are free to use to make lunch, and benches to sit on while you eat it. Later in the day, this is the perfect place to enjoy a relaxing dinner while you look out over the marina and the bathing huts on Vester Strand Beach, as the ferry comes in to dock in Ærøskøbing.
Address: Strandvejen 4B, 5970 Ærøskøbing
Photo:Kasper Orthmann Andersen