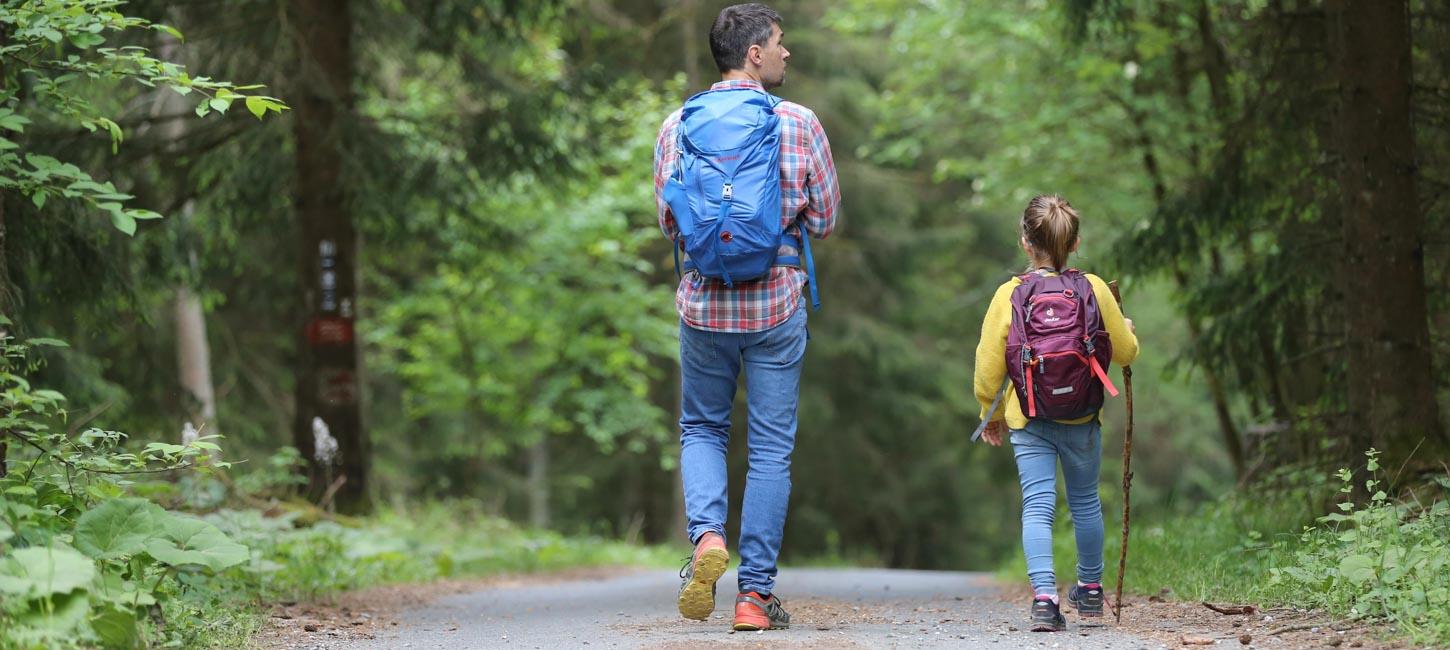 Checklist: how to plan a family-friendly hiking holiday
Photo:
Juliane Liebermann
Go on a nature adventure with your children. With this checklist both the experienced and unexperienced can go on a hiking holiday – it takes a little preparation but read on and learn how to plan a family-friendly hiking holiday
If you haven't read our checklist of how to plan the perfect hiking holiday, we highly recommend reading that one too.
This checklist is an addition for those who want to know more about how to make the hiking experience fun for whole family. We have thought long and hard about it which resulted in these 10 steps. Have fun!
Step #1: Expectations
Even though you know what a hiking holiday has to offer, your children might not. This means you must share your excitement to build the right expectations.
Be concrete and tell them what you are going to do on your holiday. Start by sharing what you look forward to the most – your enthusiasm will most likely be contagious.
Get your children involved in the planning. Maybe they can think of something specific they want to do – to play in a forest, look for a specific animal or find eatable plants and berries along the way.
Talk about the possible challenges. What might be hard and difficult? What are you going to do when you get tired or it starts raining? Ask the children how they might solve the different challenges – this will make it seem less difficult.
Continue to share and match your expectations during the holiday.
Step #2: Practice makes perfect
If you've never gone on longer hikes with your children, start practicing before going on holiday. Trips lasting a couple of hours are a great place to start. We have many useful trails and routes on Fyn.
Remember to mirror the upcoming holiday. If you expect your children to carry their own backpack, they must do this on the practice hikes as well. Practice reading maps. Eat a packed lunch.
And most important – if you want the children to walk on their own two feet, don't start carrying them on the practice hike. Practice makes perfect, and their little legs can walk longer than you might think.
If you have young children who can't walk far, you can buy a baby carrier backpack. Remember to practice walking with it before going on holiday.
Step #3: Holiday with a base and day trips
A hiking holiday with a base to return to gives you flexibility and comfort. Even though you practice walking long distances, it can be different once you actually go on holiday.
With a fixed base, for example a hotel or a Bed and Breakfast, you can easily change plans along the way. You also have the advantage of only having to carry a daypack.
If you don't know where to go on your day trips, take a look at our other checklist – you can also read about different accommodation.
Step #4: The easy and fun first day
Of course, every day should be fun, but it pays off paying special attention to the first day. Choose a shorter route and make sure you have lots of time.
During the first hike, make sure to show your own enthusiasm – show your kids the whimsical details of nature, notice the views along the way, smell the flowers and inspire the children to make up their own games.
When you get home, finish the day with some relaxation, maybe even adding a bit of self-care.
Step #5: Lots of fun activities
Generally speaking, kids like to do other things than just walk, walk, walk and walk some more. So make sure to put in activities during the hike, but also when you get home to your base.
During the hike, you can make up fun games and stories together. A stick can be an excellent sword if dangerous enemies should appear. The stick can also be a machete, and the forest an exotic rain forest. Just let your imagination run wild.
You can also write in a travel journal at the end of each day. It doesn't have to be a long story from each day, but just a few memorable incidents that stand out. Of course, you also have to write in your own journal together with the children.
If the children get tired of all the walking, you can take a little break from the hiking and go visit fun attractions nearby.
Visit for example Egeskov, Naturama, Fjord&Bælt, Odense ZOO, Marstal Søfartsmuseum, Den Fynske Landsby or something else. Explore the many exiting experiences on Fyn right here and get inspired.
Step #6: Research the routes – are they suited for children?
Not all hiking trails and routes are equally suited for children, so make sure to do research on your chosen route(s) – maybe you have to break the route(s) up in smaller bits or even choose another route.
Pay special attention to altitude. Even though we don't have high mountains here in Denmark, increasing altitudes can add up over a long distance.
Step #7: Optimist or pessimist?
How long a child can walk depends on age and experience. A good rule of thumb is: it's better being a pessimist than an optimist when it comes to the length of the route(s).
Your planned route will often end up getting longer – maybe you take a wrong turn, or perhaps you might want take a detour. Count on having to add +10% to the planned distance.
If your children are used to being active, 8-10 km a day should be fine. This allows time for breaks and stopping along the way. Furthermore, the children are not completely exhausted when you get home and still have energy the next day.
If you have smaller children (6-7 years and downward), or children who are not used to being active, you can start walking 5-7 km a day.
Step #8: The easy solution - Hiking package tours
If you feel that it's better to leave the planning to the professionals, hiking package tours might the perfect deal for you.
You don't have to find accommodation and figure out how to get from one place to next. You don't have to research hundreds of hiking trails and routes. Let the professionals do all the hard work, and just sit back and enjoy the ride.
Step #9: The gear
It all comes down to having the right equipment. A good backpack is especially important, both yours and the child(ren)'s. It should have a sturdy belt around the hips, an adjustable back and comfortable shoulder straps.
Must haves in the backpack on day trips:
Water bottle(s)

Rainwear

Snacks – for example dried fruit, candy or chocolate

A packed lunch

Band-aids (remember band-aids for blisters)

Binoculars

A first-aid kit (and important medicine)

Your cellphone, with useful apps (for example a bird and plant lexicon and hiking maps)

Hiking book or maps

Some toys for the kids
The right shoes are of course also very important – read all about what type of shoes to choose right here. You can also read about what to wear, how to pack your backpack and what to eat during your hike.
If you want to know more about maps, you can read all about it in our article on how to plan the perfect hiking holiday (step no. 6).
Step #10: About enthusiasm – set a good example
We already talked about this, but it's worth mentioning again – share your excitement with your children! And try to keep up the good spirits even when it gets hard.
If you feel like everything is going wrong, the kids are impossible, it's raining, and your packed lunch is soaking wet, try ignoring your desire to give up. If the kids see you give up, they may not be ready for another hike the following day.
Instead, try to find the silver lining and share it with the kids. If you're wet from the rain, why not jump in all of the puddles? If your packed lunch is stale, wet or just boing, perhaps that's the perfect excuse to find the nearest place to buy an ice cream – who doesn't like having ice cream for lunch?
Looking for more hiking inspiration?
Don't worry, Fyn has a lot to offer for all you hiking enthusiasts out there. Check out our hiking themed site right here.